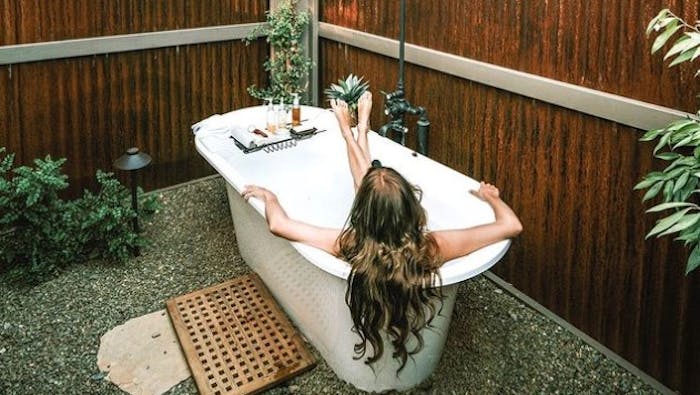 Castle Hot Springs, an award-winning wellness destination, has launched its first-ever sleep retreat!
According to the American Academy of Sleep Medicine more than 1 in 3 Americans experience sleep deprivation. With that in mind, the new retreat will guide guests through discussions, strategies, meditations and centering activities designed to achieve the daily luxury of uninterrupted rest.
The four-day sleep retreat, taking place March 24-28, 2022, is centered on reforming the guest's sleep through multiple group discussions and strategy sessions on circadian science and the connection between nutrition and sleep; private wellness sessions led by sleep specialist Dr. Rebecca Robbins; circadian-boosting yoga; hikes and walks; a farm tour; gong bath sound ceremony; and sleep meditations.
Participants will also have plenty of free time to explore the resort and partake in desert soaking in the mineral-rich hot springs. They can choose from a variety of activities, including stand up paddleboard yoga, horseback riding, archery and more.  
Tying into the Sleep Retreat's lecture on nutrition, Castle Hot Springs' culinary programming emphasizes growing and utilizing crops for flavor rather than size and yield. The property grows more than 500 varieties of fruits, vegetables, herbs and florals on its one-acre organic farm and greenhouse, all of which supply the resort's on-site dining experiences.   
On the last day, sleep seekers will leave the resort with the knowledge and tools to snooze with ease and intention.
"Sleep is a pillar of health, supporting our ability to perform in our professional lives, treat our loved ones with kindness, manage our mood and our weight, and may even increase our quality of life," notes Dr. Robbins.