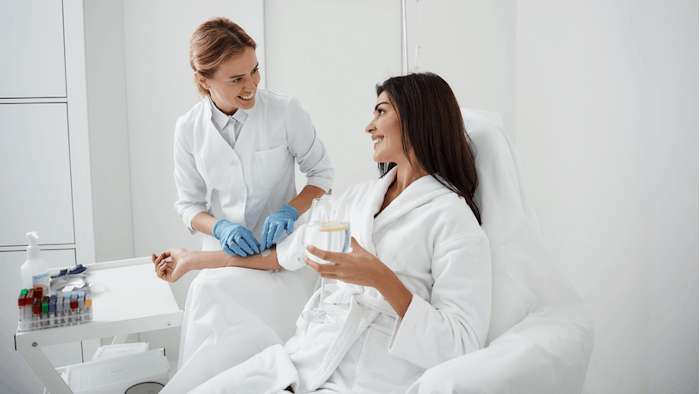 Intravenous (IV) therapy is a modality that merges holistic and clinical approaches to health. The versatile and customizable treatment allows clients to receive IV an infusion of essential fluids, vitamins, minerals and nutrients directly into the bloodstream. It's a faster and more efficient way of reaping health and beauty benefits from the inside out.
As such, it's only growing in popularity among spa-goers and wellness seekers. Here's how three spas are providing this cutting-edge therapy to guests. 
The Vitamin Infusion is one of the most popular wellness therapies booked at this cosmetic medspa. One of the key actives is vitamin B12, an essential vitamin for the formation of DNA and red blood cells, as well as nerve cell function and many other health benefits.
In addition, the Vitamin Infusion therapy helps improve the look of hair, skin and nails; provides antiaging benefits; enhances energy and metabolism; assists liver and organ detoxification; and more. Many patients use the Vitamin Infusion for an energy boost to help with daily life, scheduling a session once or twice a month.
This Brooklyn-based spa caters to a self-care lifestyle, with luxury treatments that fit anyone's needs. The FDL Glow Drip includes a blend of fluids, vitamins and antioxidants that detoxify the body and improve the complexion. Clients opt for this IV therapy when they want to look and feel their best. The spa also offers an Immunity Drip with key actives vitamin C and zinc, as well as an Athletic Recovery and Performance Drip with essential amino acids. 
Located in New York City's NoMad district, Exhale Spa's 5,000 square-feet space includes a medspa area for more clinical services. The spa provides an expansive menu of IV therapies; each drip treatment takes 45 minutes and includes hydration and vitamins.
IV treatment offerings include: Hydration, Exhale Signature, Immunity, Energy Booster, Migraine, Athletic Recovery, Vitamin C, Inflammation, Beauty and NAD+. Boosters can be added to the drips as well, with the following available for an extra fee: Toradol, Zofran, Vitamin B12, Vitamin D, Folic Acid, Biotin and Glutathione.