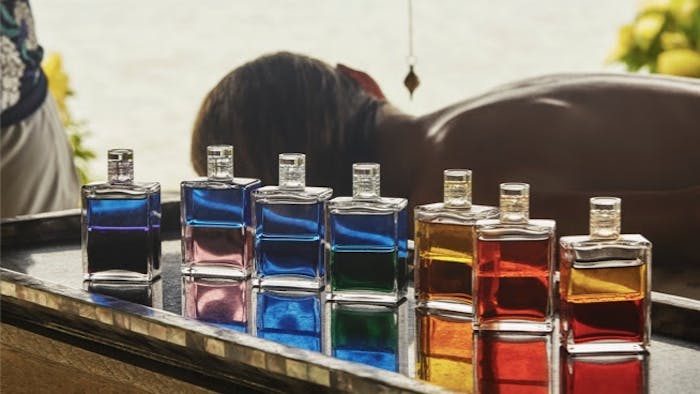 Courtesy of Four Seasons Resort Bali at Jimbaran Bay
The Healing Village Spa at Four Seasons Resort Bali at Jimbaran Bay offers treatments that use color and crystal therapy to help its guests release emotional blockages. Here, regional spa director Luisa Anderson shares her tips for infusing theses therapies throughout your home and work spaces. 
Wardrobe: Different colors and crystals can be worn to boost confidence. Listen to your inner voice to color code your wardrobe and match it to your mood.
Lounge: Neutrals are ideal for larger spaces like floors, sofas and other furniture. You can then build layers of color with throws, pillows, rugs

—and 

crystals that enhance the décor and promote good energy.
Eating Areas: Display colorful fresh fruits and veggies, and be sure to include as much as you can in all the food served. Throw in a gemstone-infused water bottle for a well-being boost.
Bedroom: Create an ideal sleep environment by incorporating soothing colors like white, pale pink and other soft, earthy tones. Keep an amethyst nearby for its calming, healing energy, and use a rose quartz crystal when you want to boost romantic vibes.
On The Body: Speaking of rose quartz, it can also be placed on or near the heart, say, in the top pocket, where it can stimulate the heart chakra to promote peace and forgiveness. Carnelian boosts confidence and creativity and holding an amethyst while meditating can deepen engagement and focus.
Additionally, according to Balinese philosophy, knowing the day on which you were born can reveal dominant characteristics. Below is a quick guide to the characteristics of each color. 
Courtesy of Four Seasons Resort Bali at Jimbaran Bay