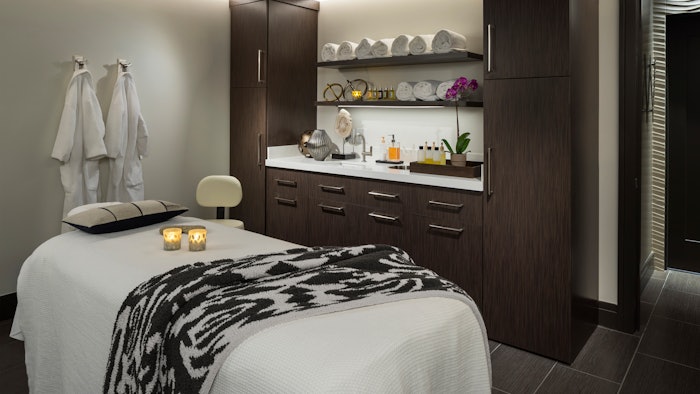 Courtesy of The Spa at ADERO Scottsdale
In honor of National Relaxation Day on Sunday, August 15, 2021, spas offered specials that allow clients to relax and recharge. Here are how three spas celebrated:
The Spa at ADERO offers invigorating body and facial treatments using amethyst and desert minerals along with mindful wellness experiences, such as:
Turquoise Rain Scrub: A refreshing treatment uses native blue corn, aloe and turquoise-infused body polish. It leaves the skin soft and hydrated while enlivening the spirit with essences of organic mint and cajeput. Turquoise is said to be a healer and a strong stone for toning and strengthening the entire body and regenerating tissue.
Intent of Healing with Crystals: Crystal healing taps into the energetic power of crystals to holistically address health. In this service, crystals are used to unblock, balance and direct the body's energy where it is most needed, gently supporting the body to heal in a therapeutic way.
Desert Meditation Walk: Accompanied by the practitioner, clients will develop a different awareness of their surroundings, body and thoughts as they walk through the serene desert landscape.
Chakra Balancing Experience with Essential Oils: Restores a harmonious flow of energy across the seven energy centers. The guide will move through each chakra, with synergistic essential oils that are applied to heighten senses.
Vibrational Sound Healing with Reflexology: Tonal frequencies are used to bring the body into a state of vibrational balance and harmony. During each session, the practitioner uses a variety of instruments, such as singing bowls and tuning forks to slow down brain waves to a deeply relaxing state.
The award-winning Qua Baths & Spa at Caesars Palace, inspired by ancient Roman traditions of relaxation, is offering the emerginC Scientific Organics facial. It incorporates natural/organic skin care that nourishes the skin with potent botanicals and cutting-edge ingredients. The Himalayan Salt Stone Massage Enhancement features hand-carved Himalayan salt massage stones containing 84 natural minerals that gently soothe away the accumulation of stress, tension and pollutants. The massage stones also gently exfoliate to promote naturally smooth and silky skin, help with a deeper relaxation and soothe tense and sore muscles.
Voie Spa & Salon at Paris Las Vegas offers a full mind and body wellness experience called The Voie Luxe Combination. The rejuvenating spa services begin with an Aromatherapy Custom Massage with the clients' choice of scents inspired by unique regions in France, such as lavender, cedar, cypress, jasmine or sweet orange. Then, they enjoy a Renewal Anti-Aging Facial that will result in a rested and radiant complexion.