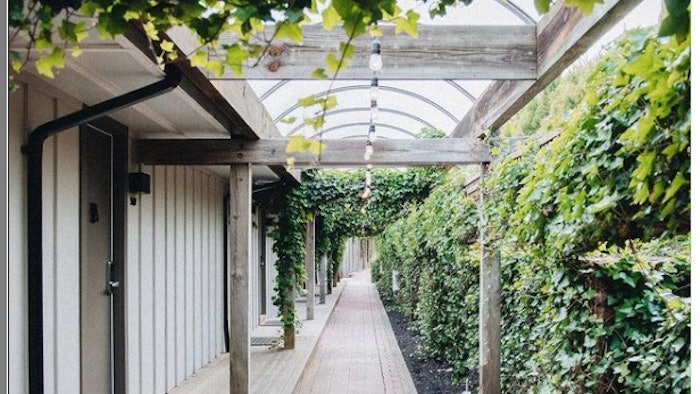 Via @gurneysresorts/Instagram
Spa development firm TLEE Spas has announced two New York-based projects: the Seawater Spa at Gurney's Montauk Resort on the east end of Long Island, and Willowbrook Spa at The Lake House on Canandaigua in upstate New York. Each project encourages guests to connect with nature via curated wellness environments shaped by each site's unique characteristics and local context.
1. Sea, Salt & Sand
Seawater Spa is inspired by the natural healing properties of mineral-rich water and seaside air. It incorporates elements of health club, spa retreat and social hub in one destination. Clients are invited to connect with nature through thalassotherapy rituals, contrast bathing and hydrotherapy, advanced skin care and bodywork, and robust fitness offerings. New water features complement the resort's ocean-fed saltwater pool, where guests can enjoy sensory immersion with the natural surroundings.
The expanded fitness facility features natural light, fresh air and oceanfront views. Emphasizing metabolic conditioning, interval training and athletic performance, the onsite workouts and offsite excursions reflect the fresh-air fitness trend that emerged during the pandemic and will continue to influence wellness environments moving forward.
"We tapped into the rejuvenating effects of the seaside environment that permeates the entire property," said TLEE Spas vice president and COO Michael Lahm. "Positioning the healing properties of seawater and the salt-enriched seaside air as a catalyst for a wellness-enriched lifestyle, we leveraged the property's unique advantage as the only spa in the United States with access to fresh seawater to inform a new spa menu and diverse wellness experiences."
This immerses guests in a relaxing rhythm and flow, shifting from self-directed activities to prescriptive therapies, allowing them to fashion a tailored experience.
2. Slow Travel
The Willowbrook Spa at The Lake House takes inspiration from its iconic lakefront location, renowned for postcard-worthy views of lakes and hills. The resort has already been named among the best new sustainable hotels in the world and the best new nature hotels around the world, according to the 25th edition of Condé Nast Traveler's Hot List.
Willowcreek Spa promotes wellness in many ways, from mindful movement in serene surroundings to outdoor treatments and weekend retreats. The spa's Sun Room features natural light, fresh airflow and beautiful views of nature, while the Spa Garden includes three private sauna pods with outdoor showers and resting areas, plus outdoor lounging areas.
Willowbrook Spa uses plant medicine to promote holistic health, including curated refreshment offerings. Intentionally simple, the spa menu offers bespoke experiences like session-based skin care and a signature massage that combines prescriptive techniques, herb-infused oils and topical remedies to complement the therapist's intuitive intelligence of the therapist.