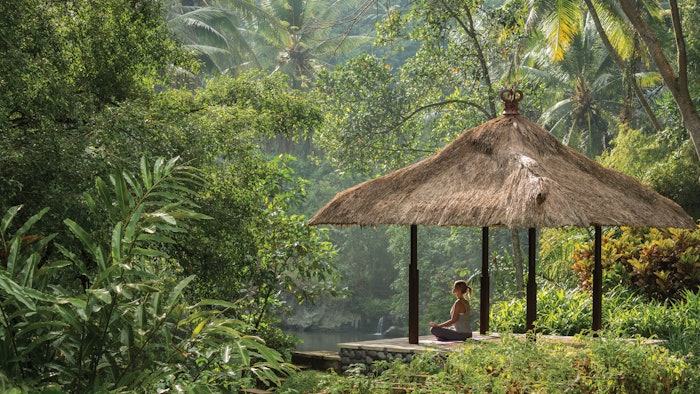 Courtesy of Four Seasons
Several Four Seasons Hotels have committed to celebrating Global Wellness Day (GWD) on June 12, 2021, through different wellness events, activities and inspiring ideas aimed at slowing down to focus on self-care.
This year marks the 10th anniversary of GWD, a day dedicated to living well and to honoring choices that cultivate health in all its forms.
Here are eight ways Four Seasons is celebrating. 
1. Four Seasons Hotel Philadelphia at Comcast Center - Resident Crystal Healer Rashida Bell will lead a five-minute meditation session and healing experience, offering a quiet moment to pause and reflect. The session will be available via video recording on the Four Seasons Hotel Philadelphia IGTV channel. 
2. Four Seasons Resort Oahu at Ko Olina - Tahiti Hernandez Kemper, a renowned fitness instructor, will host high-energy fitness classes for a 20-minutes on Instagram Live.
3. Four Seasons Hotel Toronto - Working with a local studio, the hotel will host a 45-minute yoga session designed for children via Instagram Live. 
4. Four Seasons Hotel Hampshire - Guests and spa members are invited to celebrate at the picturesque Tundry Pond,  where in-house hypnotherapist Mark Williams will transport them with a group "Mind Massage" designed to offer a positive mindset and motivation for the day ahead. Then, fitness specialist Kinga Matuszczak-Saad will take guests through a body alignment class, created to strengthen muscles using specially designed stretching exercises. 
5. Grand-Hôtel du Cap-Ferrat, A Four Seasons Hotel - Guests can participate in a "muscular awakening" class with former triathlete and fitness coach Pierre-Antoine Guilhem, both in person and via Instagram Live. Guests can also take part in a complimentary aromatherapy workshop with spa director and aromatherapist Marie-Cécile Rousset, who will offer insight into how the power of plants can be used to improve well-being, health and mood.
6. Four Seasons Resort Seychelles - Guests of all levels can join a Yin Yoga session on the soft, white sands of Petite Anse in the morning. Later, they can enjoy a Pilates class consisting of low-impact flexibility, muscular strength and endurance movements assisting with postural alignment, core strength and muscular balance.
7. Four Seasons Resort Bali at Sayan - Guests can participate in a 45-minute virtual meditation session from the resort's resident Wellness Mentor and former Buddhist nun Ibu Fera. Available via Instagram Live, the session will focus on increasing awareness and mindfulness to boost resilience. 
8. Four Seasons Hotel Tokyo at Otemachi - Guests and spa members can enjoy morning yoga and meditation focused on deep breathing and slow movement. Also on offer is a jog around the Imperial Gardens in the afternoon. In case of rain, personal trainers are ready to host a stretch session as an alternative warm up. Other activities include a 60-minute yoga session followed by a 15-minute meditation, tea pairing and sampling, crystal bowl sound healing and more.