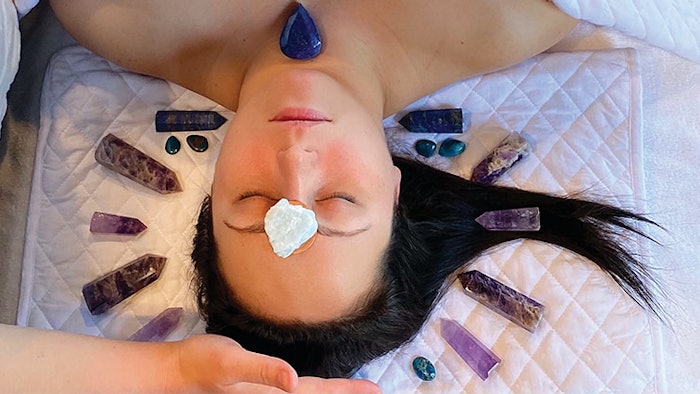 The secret to life is simple. Slow down, savor and enjoy good self-care. Most spa professionals realize this, even if we don't necessarily put it into practice. We understand the impact that lifestyle and ailments have on the body. We see the stress of the everyday grind through dehydration, dullness, fine lines and blemishes. And after our guests stretch out onto our table for some much-needed rest, we see people at their most relaxed.
When the high-powered CEO finally lets her guard down to just be in the moment; when the parent of four finally slows down; when the teen bothered by his acne finally stops thinking about it—this stillness is powerfully healing, and it is our job to make the most of the time we have with each guest. How do we accomplish this? By bringing together clinical and holistic techniques to optimize skin health and overall wellness.
Clinical Review
Let's take a moment to quickly review clinical skin care services. First, microdermabrasion utilizes a diamond-tipped wand for a non-invasive resurfacing treatment that renews overall skin tone and texture. It reduces fine lines, wrinkles, acne scarring and sun damage to reveal bright and beautiful skin. I personally opt for a gentler microdermabrasion treatment using the most delicate sanding tips to gently loosen shedding skin cells, usually before a light enzyme peel or hydrating enzyme mask for a radiant glow.
Continue reading our Digital Magazine for more insight on merging clinical and holistic modalities in your treatment room...
Kristen N.M. Johnson, RN, LE, is co-owner of The Eclipse Spa in Westminster, Maryland. She is passionate about creating a unique and indulgent experience for each guest, specializing in the development and implementation of innovative treatments. Johnson is an Usui reiki master and holds advanced training and certifications in holistic and integrative health, aromatherapy, acupressure, auriculotherapy, facial cupping, facial reflexology, crystal therapy, chakra healing and more.