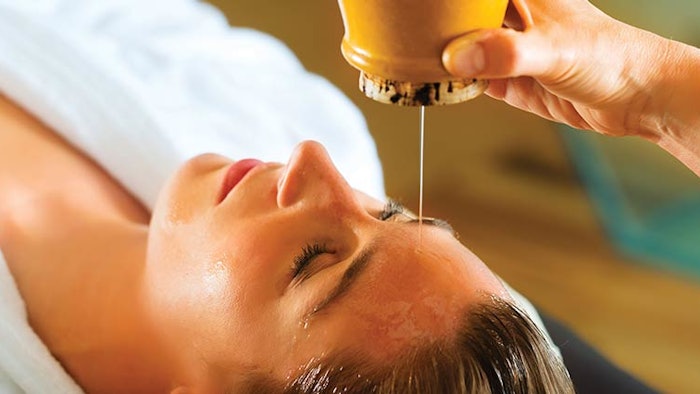 Ayurveda is a major part of the wellness world, and as clients increasingly look toward this practice for holistic healing, spas have found different ways to implement Ayurvedic principles in treatments. These expert insights will keep you upto date on what's trending with Ayurveda.
"Skin care rooted in Ayurveda, the Indian holistic healing system that has been practiced for more than 5,000 years, will be a trend that continues to rise. Just like K-Beauty, which took the world by storm and has grown into a multibillion dollar industry, we expect Indian Ayurvedic Beauty, or In-Beauty, to be the next major global player. The philosophy of Ayurveda, which means "The Science of Life" in Sanskrit, is geared toward self-care. Often called "The Mother of All Healing," Ayurveda is about balancing the mind and body, placing great emphasis on prevention and encouraging the maintenance of health.
The pandemic has forced consumers to focus on their health and well-being, which includes both what they put on their bodies as well as what they put in them. Since self-care has become such a priority, skin care professionals should consider carrying Ayurvedic lines both in their backbar and retail areas. With powerful, natural anti-inflammatory ingredients that have been used for thousands of years like turmeric, peony, neem, goji berries, amla, sandalwood, coconut, rose water and marula seed, Ayurvedic beauty's focus on the mind, body and spirit provides a much more holistic approach to skin care and overall wellness." -Deepika Vyas, cofounder and CEO of AVYA Skincare
Continue reading our Digital Magazine for more qutoes from...
Hapsari Widyaningrum, director of spa a The Chedi Muscat, Oman
Sheila Patel, MD, chief medical officer of Chopra Global and Ayurvedic health consultant
Gina Preziosa, vice president of slaes and marketing at Shankara
Mar Soraparu, partner and chief wellness officer of BiAN Chicago
Tara Grodjesk, president and founder of Tara Spa Therapy