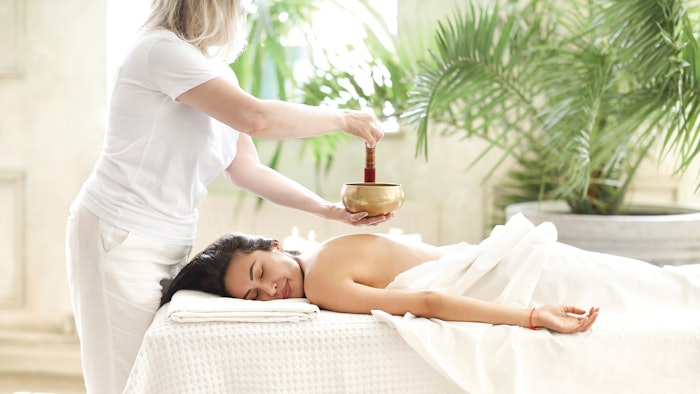 There are many benefits to sound therapy, especially when it's used in different spa and wellness treatments. See what industry experts had to say about this harmonious offering and its growing popularity.
"Given the increase in research showing beneficial effects of healing sounds on our physiology, the future of sound therapy includes using sound vibrations for general health and well-being, as well as medical therapy for pain, anxiety and depression, among other conditions." —Sheila Patel, MD, chief medical officer for Chopra Global and Ayurvedic health consultant
"After a time in which health has been at the forefront of every conversation and peace of mind has been eroded by stress and uncertainty, the importance of actively focusing on physical, mental and emotional well-being has never been as clearly acknowledged as it is today. Sound therapy is renowned for its ability to heal through meditation. Amanoi, our resort in Vietnam, has introduced Himalayan Singing Bowl Sound Therapy as a new spa treatment this year for those desiring relaxation, increased mindfulness and optimal health." —Yuki Kiyono, global head of wellness and spa at Aman Resorts
Continue Reading our Digital Magazine for 5 more quotes from industry experts on what is trending with sound therapy...