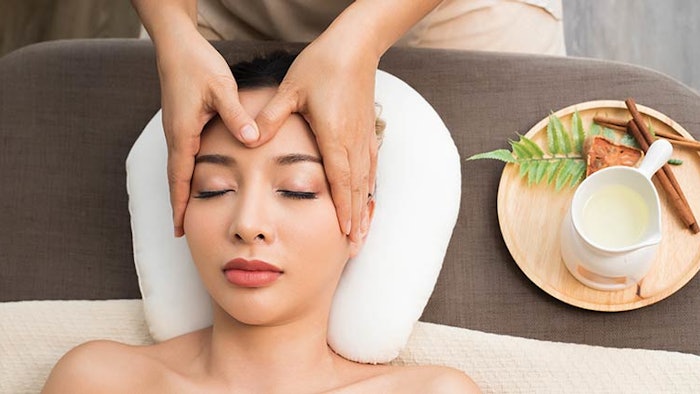 How does Ayurveda fit into the spa setting?
Tanuj Nakra, MD, FACS, cofounder of AVYA Skincare: The ancient wisdom of Ayurveda can be very beneficial for anyone interested in improving the health of their skin. By focusing on energy flow and inflammation within the body and the skin, Ayurvedic approaches can help balance conditions such as rosacea, melasma and acne, as well as dry or oily complexions. Anyone who is interested in healthier skin, as well as general health and well-being, can benefit from Ayurveda.
Vythi Lingam, founder of Hylunia Wellness MD in Costa Mesa, California, and cofounder of Hylunia and Hymed Skin Care: Ayurveda believes that every individual is built differently. You can create a detailed profile of your guest through Ayurvedic body typing and a lifestyle assessment, and design a customized protocol based on identified stress levels, happiness levels, sleep quality, diet, lifestyle and effects of accumulated traumas from the past. The solution can include a combination of:
Ayurvedic spa treatments like Shirodhara, Panchakarma (adapted to American body constitution, lifestyle and diet) and Abhyanga massages;
An Ayurvedic diet prescribed by a certified practitioner;
A daily Ayurveda-recommended routine;
Yoga, pranayama and mantra meditation practices, in spa or at home;
Ayurvedic herbs, supplements and preparations, which can be provided in spa by a certified practitioner.
One of our most popular Ayurveda spa treatments is the Shirodhara Ritual (60 min./$140). This ancient massage is the absolute queen of all healing relaxation therapies. Deep breathing techniques calm the senses and prepare the client for the warm oil, which is gently poured onto their forehead and stimulates their third eye chakra as it drips through their hair. Next, the client receives an Ayurvedic Abhyanga massage, which facilitates proper blood circulation and detox.
What's the importance of the Ayurvedic doshas?
Kalani Perera, Ayurvedic doctor at Merana Spa at Vakkaru Maldives: The main component of Ayurvedic theory is that doshas govern the physical and mental functions of the body. When doshas are balanced, a person will achieve a better quality of health; when they're imbalanced, they can cause dissolution and various adverse effects on the body. Each person has a particular pattern of energy—an individual combination of physical, mental and spiritual characteristics that comprise their own constitution.
Ayurveda identifies three basic types of energy in humans; these doshas are vata, pitta and kapha. All people have the qualities of vata, pitta and kapha, but one is usually predominant. According to Ayurvedic medicine, the entirety of creation is an interaction of the energies of the five great elements: space, air, fire, water and earth. In the biological body, vata is the subtle energy of movement, pitta the energy of digestion and metabolism, and kapha the energy that forms the structure of the physical body.
Continue Reading in our Digital Magazine to learn more about Ayurvedic practices in the spa...