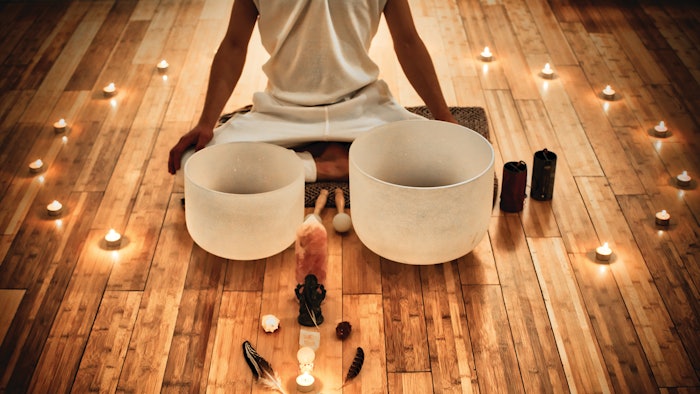 What are the benefits of sound therapy?
Tryshe Dhevney, spiritual wellness provider at Canyon Ranch in Tucson, Arizona: Typically, sound and harmony are recognized through auditory stimulation. Yet, we also experience sound as sensation. By definition, sound therapy, or sound healing, is the use of vibration to subtly transform a state of disharmony to well-being. When used as a therapeutic tool, sound can help us relax and restore, uplift mood, reduce stress and release various neural chemicals that can improve memory and intelligence, strengthen focus, help aid digestion, enhance creative thinking (the "genius brain"), improve sleep and help suppress pain. In my opinion, sound does the heavy lifting, releasing what is considered stagnant or dense energy and restoring balance—a return to wholeness from the inside out.
Natalia DeSario-Pedroza, spa director at Mandara Spa at Wailea Beach Resort in Maui, Hawaii: Some of the benefits of sound therapy include: helping release old, stuck energies and opening clients up to receive what they need; increasing relaxation, awareness, focus, clarity, memory retention and recall; improving sleep, breathing, heart rate and mood; helping clients feel more balanced and connected to themselves; tuning out thoughts so the person can tune into meditation, reducing anxiety, worry, stress, fear, depression, tension and fatigue; and enhancing self-esteem and self-acceptance.
Magdaleena Nikolov, director of spa at Fairmont Century Plaza in Los Angeles: One of the universal and most impactful benefits of sound therapy is deep relaxation. The sound permeates through the body, bringing it back to harmony in a profound state of calm. Sound vibrations will also help to open, clear and balance the chakras, releasing any energy that may be stuck. This will promote healing and sleep, while addressing chronic pain and high blood pressure.
Given what's happening on a global level, I feel one of the most important benefits right now is the mental, emotional and spiritual support that sound therapy offers. There is some compelling research that supports sound healing and its ability to relieve not only physical pain but psychological, as well. It's an effective modality that uses vibration to reduce stress, alter consciousness and create a deep sense of peace.
Continue Reading on the benefits of sound therapy and adding it to your spa in our Digital Magazine...