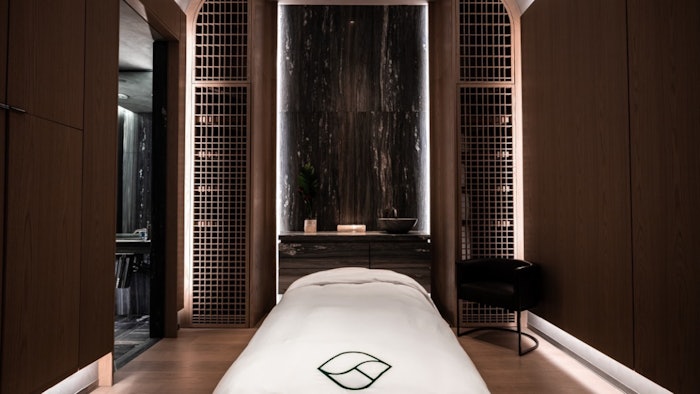 Image: @fairmontspacenturyplaza on Instagram
It's 2022, and spa press events have been few and far between for obvious reasons. So, I was super excited when I was finally invited to visit a spa in my neck of the woods: The Spa at Fairmont Century Plaza in Los Angeles. The newly renovated luxury spa was hosting an intimate event about UltraCeuticals, one of its equally luxe lines of skin care.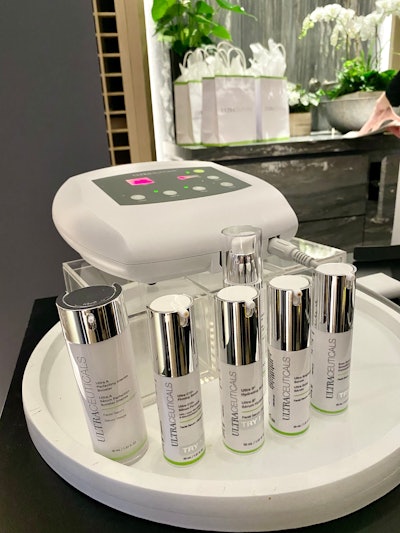 UltraCeuticals is a renowned brand of targeted skin solutions that's incredibly popular in Australia, and it's now launching in spas across the U.S. The brand has offerings for all sorts of concerns, from acne to aging to sun protection. It even has a low-frequency ultrasound device, called UltraSonophoresis, which uses ultrasonic vibrations to improve the absorption of actives into the skin. 
After learning more about the brand and playing with some of the products, I got the chance to experience an UltraCeuticals facial treatment. I met my esthetician, Cindy, and headed to the treatment room, where I relaxed on a comfy table with an even fluffier blanket. 
Related: An Ayurvedic Experience at Glen Ivy Hot Springs
First, Cindy guided me through a short breathing exercise and thoroughly cleansed my face using amazing face massage techniques. Then she inspected my skin and we discussed my areas of concern. Honestly, it's been so long since I've had a professional treatment that all I really wanted was a deep cleanse and exfoliation—a "de-gunking" as I like to call it.
Cindy agreed that exfoliation was in order, and she also noted that I was a little red and dehydrated in general. She came up with a tailored plan to deeply cleanse and exfoliate my face to get rid of all that built-up congestion and dead skin, then she would replenish moisture once that top layer was removed. Finally, Cindy would use corrective serums to further replenish hydration, diminish redness and prevent more clogged pores from happening. 
She started by applying some exfoliating lactic acids, followed by a salicylic treatment that she infused deeper with the UltraSonophoresis. Next was a replenishing mask to literally add hydration and nutrients back into my skin. Cindy performed a truly divine neck, shoulder and upper back massage before laying a hot towel over my face, performing relaxing compressions and wiping away the mask.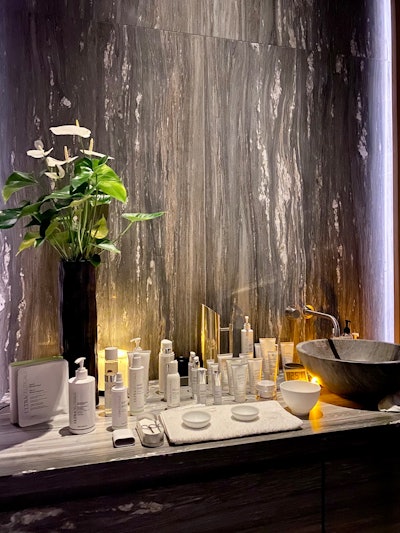 Now it was time for correctives—all of those potent ingredients that would nourish, treat and protect my complexion. Cindy layered on the serums with UltraSonophoresis infusion after each one, delivering actives like hyaluronic acid and vitamins A, B and C deep into my skin. 
Related: Aromatherapy, Healing Treatments and More
Next was the moisturizer and eye cream, followed by SPF. Cindy then performed a final scalp massage and breathing exercise to close the treatment. 
What really set the experience apart was the quality customer service. Cindy didn't just apply products to my face; she used massage techniques to work them in, clearly paying special attention to relaxing pressure points that made my entire body relax. Even with the eye cream, she added a little massage therapy around the orbital bone. It all truly left me in a state of bliss. 
In addition, Cindy checked in about my current skin care regimen throughout the treatment. She advised me about what I should keep doing and what I should add, always explaining the reasoning behind it.
I left the spa completely glowing, outside and in, and my skin is still looking great after all that TLC!