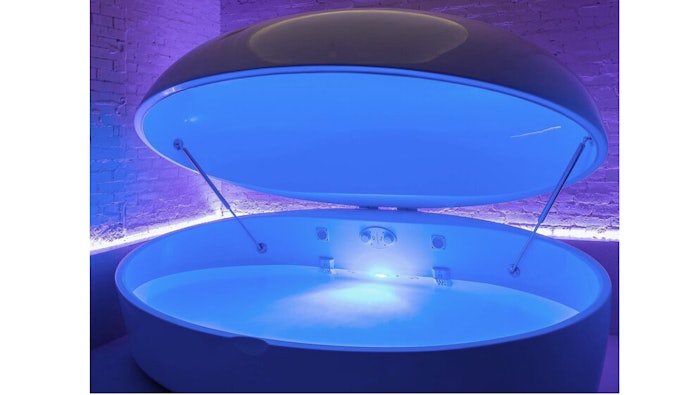 Courtesy of Annie Meisel Photography/Pause Studio
As I get more and more acquainted with the world of wellness, I've discovered that the best part by far is that a wellness treatment is always beneficial—whether you feel like you need it or not! So when Pause Studio offered me an opportunity to try out flotation therapy, I jumped at the chance even though I wasn't feeling especially achy or stressed out. Instead, I was just really excited, having never experienced a session for myself.
Related: Flotation Therapy Trending Among Spa-Goers
Pause Studio is a clean, modern holistic health space that offers infrared sauna, cryotherapy and IV vitamin therapy in addition to flotation. I arrived with two other guests who were also booked for a float session, and the front desk attendant checked us all in at once, then led us down the hall to our treatment rooms. 
The attendant gave us a quick breakdown of flotation therapy benefits—stress reduction, athletic recovery, better sleep quality and increased circulation—then walked us through the steps for treatment. We would be doing it alone, as no one would come into the room at any time once the door was shut. The experience is completely therapist-free.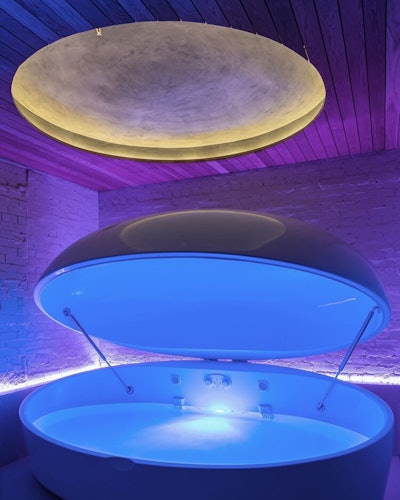 First, I put in the recommended ear plugs before taking a shower to wash away excess oils and dirt from my skin. The shower is conveniently located next to the float pod, so I was able to easily step from the shower into the pod. Then, it was time to float. 
The float pod's water contains 1,000 pounds of Epsom salts, so your body stays totally buoyant. I was surprised, in fact, that the front of my body was never submerged. The water only just covered my ears (hence, the ear plugs). The water temperature was lukewarm, so after a few minutes I couldn't feel it at all. The attendant explained that she can control the pod from the front desk, so once it was closed (by me), the one-hour timer would start. 
The float pods at Pause Studio offer some customization, which I really liked. I was able to choose between soft lighting or darkness; gentle music or silence. I opted for darkness and silence for the full sensory deprivation experience. I'll admit that, at first, my mind was running and I was concerned about having to spend a full hour just … floating. But within a few minutes I slipped into a relaxing, meditative state before fully dozing off. It felt like I was only floating for about 20 minutes before I got the notification that the full hour was up!
The pod gently roused me via a voiceover that instructed me to exit the pod and shower, washing away all that salt, before getting dressed and heading back to the front desk. I did as asked, checked out and headed home.
I remained totally relaxed for the rest of the day, and I definitely slept like a baby that night. I imagine that it feels even better if you have muscle aches or soreness, not only because the weightlessness takes away physical stress, but the concentrated salts are so good for muscle recovery. Even without muscle aches, I still felt the relaxation benefits—both physically and mentally—and I'm keeping flotation in mind next time I need some serious stress relief!