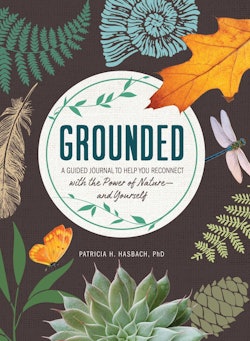 Those looking for ways to connect with nature for health, healing and well-being may be interested in GROUNDED: A Guided Journal to Help You Reconnect with the Power of Nature—and Yourself by Patricia H. Hasbach, PhD, licensed psychotherapist and college educator. Available May 10, 2022, this journal delves into ecotherapy, a practice focused on the benefits of interactions with nature.
Plenty of studies have demonstrated that connecting to the natural world reduces stress, improves health and promotes better well-being. With that in mind, GROUNDED helps readers engage with nature on a daily basis. Prompts, artwork, quotes and fun facts help teach readers to minimize screen time, find their creativity and get in touch with all of their senses—ultimately helping them feel grounded.
GROUNDED is an interactive journal full of calming art, photography and inspiration. It presents ideas for bringing nature inside, so the guide can be used whether you're in the city or more open space. Spa and wellness pros can use the guide for their own healing. Plus, you can place it in a relaxation lounge or waiting area to inspire guests, or offer it in retail areas so they can take it home. 
"There is a huge body of scientific evidence that confirms that our direct interaction with nature reduces stress, restores attention fatigue, eases depression and anxiety, and fosters creativity. Interacting with nature offers us a sense of security, deepens the roots of resilience, and enhances our sensory awareness that contributes to feeling fully alive. But with back-to-back Zooms and our phones in constant reach, we're more removed from nature than ever before. GROUNDED provides an inviting space to reflect on how you can engage more intentionally with the natural world and offers ways to easily incorporate nearby nature into your home and your daily life," says Dr. Patricia H. Hasbach.