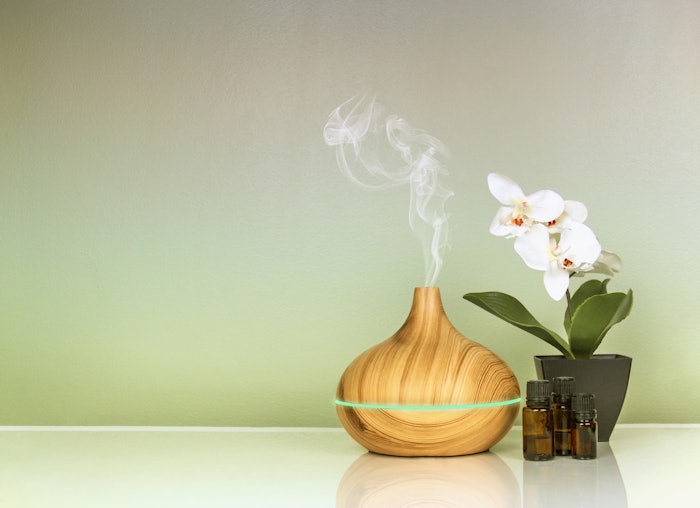 The winter blues was something that, in the past, I felt was winter's inevitable uninvited guest. The shorter days, cold weather, dry skin and runny noses were something I would start dreading long before they arrived. However, in recent years I've learned a few things that have helped me embrace one of the harshest seasons. Of course, cozy loungewear and seasonal snacks certainly make a difference. I also believe that creating a serene home environment that reflects each season is a lovely way to celebrate nature's cycles—and aromatherapy is key. 
1. Diffuser Blends
Essential oil diffusers are a year-round must in my house. I find it gratifying to be able to naturally scent my home with blends that not only smell wonderful but also have an uplifting psychological effect. They are also a wonderful way to bring each season indoors, which also reflects your style and preference. Creating a home environment that brings tranquility is something I always keep in mind when doing anything from arranging furniture to choosing essential oil blends.
In winter, earthy elements have a grounding effect, especially on days when it's impossible to get out and enjoy nature. I prefer a combination of fir, spruce, pine and cedarwood, which is simultaneously cleansing and calming, like walking through the woods after a rain.
Another combination I find uplifting and perfect for winter is orange and clove. The scent of orange alone can be quite fresh and energizing, but when complemented with clove essential oil it suddenly shifts into something comforting and warm. Some like to add a bit of cinnamon as well. This blend, with its almost spiced cider scent, is thought to welcome in abundance and prosperity.
These aromatic blends, while a small addition to my daily routine, bring a celebratory and seasonal element that help alleviate winter blues. Creating personal blends is also a nice way to reflect on what scents evoke positive thoughts, emotions or memories for you. From there, you can create blends that encapsulate your favorite elements of the season. Winter has such a beautiful array of complementing essential oils that you can get creative when formulating.
2. Shower Mists
Essential oil shower mists are a winter hack that can be easily bought or made at home—simply mix a few drops of essential oil with some water in a spray bottle, and gently mist in the shower. This is a simple addition to any showering routine but creates such an elevated, spa-like experience.
In the mornings, I use a citrus and eucalyptus blend that helps me wake up (and eases any winter sinus issues). Speaking of sinus issues, you can also combine essential oils such as eucalyptus, tea tree, peppermint, citrus, rosemary, clary sage, balsam fir or cedarwood to help clear your head.
For evening showers, I opt for a blend that focuses on relaxation and de-stressing. Some of my favorites are sandalwood, bergamot, lavender, rose, clary sage, ylang ylang and frankincense.
3. Pillow Mists
Pillow mists are another lovely aromatherapeutic addition, and they're also easily purchased or made at home. A good night's sleep is crucial for health and wellness, and nighttime rituals help prepare the mind and body for optimal rest and relaxation. There are some lovely lavender blends currently on the market, and their packaging makes them convenient for travel.
I also use my own blend using some of my favorite essential oils, such as sandalwood, rose, lavender and bergamot. There is something meditative about creating blends for yourself, as it is an opportunity to sit peacefully and think about what you enjoy about each scent, what you feel combines nicely and what ultimately would promote a restful sleep for you.
Beating the winter blues is not the easiest task, but small and purposeful additions to your routine can be incredibly helpful. Incorporating luxurious moments on a daily basis can easily turn the mundane into something you look forward to (that was what shower mists did for me). Even the process of creating can be a joyful experience, spending time focusing on what you enjoy about winter and then creating a blend that reflects it. Personally, I find that celebrating the current season in a way that suits you is a lovely way to embrace nature's rhythm.
Heather Lasrado and Isabel Lazo created and cofounded Isa Lazo. The line brings a touch of luxury to every day. The essential oil formulas create the ultimate self-care experience, with each product designed to work together to strengthen, rejuvenate and revitalize the skin and awaken the senses. Since launching in spring 2020, the cruelty-free brand has quickly created a cult celebrity following that includes Blake Lively, Shay Mitchell and Cameron Diaz.