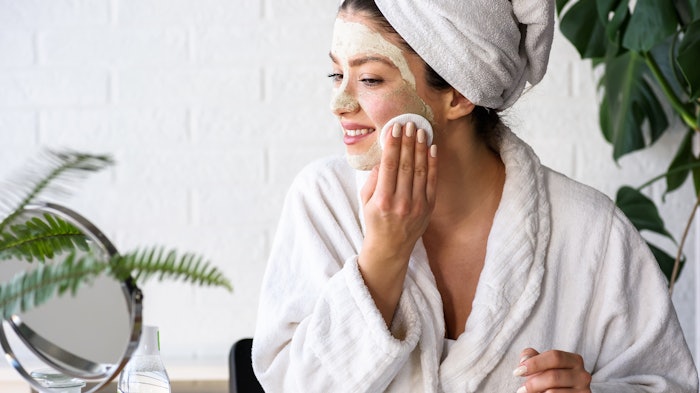 In 2021, we are in the midst of a wellness boom. Consumers are placing more focus on self-care than ever before, with search terms for the words "self-care" increasing 250% within just a year.1 With shelter-at-home preventing popular self-care activities such as weekend getaways and spa trips, it would appear that skin care has possibly become the next big tool for self-care.
A Self-Care Boom
While awareness around mental health and well-being had been steadily on the rise for decades, the Covid-19 pandemic shone a spotlight on the issue like nothing we had ever seen before. With millions falling ill in a matter of weeks, global economies coming to a standstill and almost every nation entering local lockdowns, mental well-being was placed on a slippery slope at a universal level.
To combat such worldwide uncertainty, wellness and self-care soon soared in popularity. Currently valued at $4.5 trillion globally, the global wellness industry is growing twice as fast as the rest of the economy and showing no signs of slowing down.2
As the pandemic took hold, brands across the globe turned their sights toward better supporting their consumers at home, adding new product lines tailored to a new way of living, offering free subscriptions to ease financial worries, and launching virtual events to keep spirits high and maintain a sense of solidarity within their communities. Wellness became even more mainstream as people sought to take complete care of their physical and mental health, finding everyday habits to deal with new demands and escape from their worries.
Wellness Gap
Despite a surge in demand for self-care solutions, there is still some way for brands to go to effectively support consumers on their wellness journeys. A recent Ogilvy study found that while 80% of consumers wish to improve their wellness, 75% believe brands could do more, with only 45% claiming that brands currently treat their consumers' wellness as a priority.3
To bridge this gap, see what products you can provide to help your clients better look after their physical and mental health even when they aren't able to come to you physically. Ask yourself if you have fully embraced well-being into their spas ethos and if you are supporting your clients more holistically in their quest for greater all-round health.
Spotlight on Skin Care
As working from home became a nationwide norm, 96% of consumers began investing less in makeup and instead prioritized effective skin care.4 Skin care sales increased 54% in 2020, with sales of cleansers rising 66%, face creams growing 67% and serums up 38% compared to the previous year.5
This growth can be attributed to a few key reasons:
At-home relaxation: With off-grid spa destinations and luxury holidays put on hold, skin care became the ultimate at-home relaxation experience. Not only could it provide that little bit of escapism from the harsh realities of the world, but it allowed consumers to maintain a sense of work-life balance, taking a bit of time for themselves at the beginning and end of each day.
Routine: Routine is an excellent tool for fostering greater well-being. As we typically take part in our skin care routines immediately after waking up and just before going to bed, this ritual can serve as a point of stability in the week, helping consumers to feel more prepared for each day, and maybe even generating a sense of accomplishment.
Engagement: While the closure of high street beauty counters prevented face-to-face interactions with consumers, beauty brands and spas moved quickly in their adoption of digital technologies to ensure continued engagement with their customers. By harnessing the latest innovations in tech, these brands soon found more effective ways to interact with consumers online, tailoring their product offerings to meet changing needs and solving the skin care challenges brought on by the pandemic (we're looking at you, maskne), and without losing the all-important personal touch.
Embracing Tech
Spas quickly adopted virtual consultations to elevate the client experience online, while still being able to provide skin care treatments. Consumers were left feeling much more supported by their spa as they took steps to improve their physical and mental well-being.
Beauty brands and spas are also embracing new technologies such as apps, artificial intelligence (AI) and virtual reality (VR), to elevate the online experience for their clients and let them get a lot more interactive with their products and services. This includes everything from "try on" features to the accumulation of skin care and beauty in single devices.
It will soon be possible for brands to apply lab standard technology to the global skin care industry with devices that scan the skin in real time, taking into account factors such as skin type, weather, humidity and location, to determine exactly what the skin needs in that moment and dispense the precise amount of product required. Developments in this area will continue to emphasize the role that skin care plays in achieving greater self-care and well-being, supporting consumers on their complete wellness journey.
A Self-Care Revolution
Ultimately, skin care has come to play a significant role in the lives of consumers over the past year, providing a tool for relaxation, a ritual to separate our personal and working lives, and a pathway to improved well-being.
Wilma McDaniel, Company Director of Cutitronics, is global speaker, entrepreneur and skincare expert, who is leading the way for developments in the skin-tech industry. By blending in-depth skin care knowledge with state-of-the-art technology, Cutitronics is transforming the way consumers take care of their skin at home. https://www.cutitronics.com/
References: