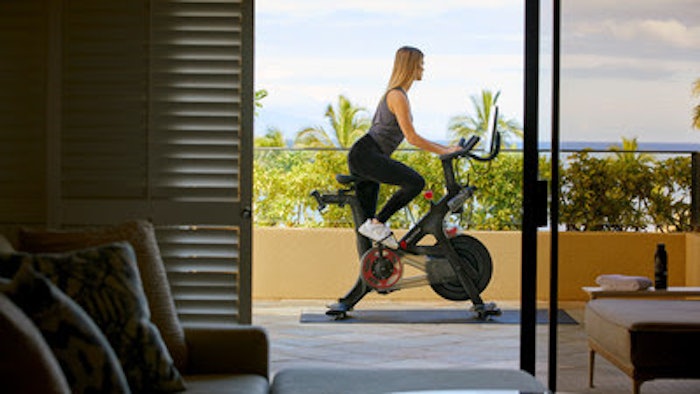 Courtesy of Four Seasons Resort Maui at Wailea
Four Seasons Resort Maui at Wailea has introduced fitness options designed to help guests stay active and healthy while staying safe. Grab some inspiration for your own fitness programming with these offerings. 
In-Suite Peloton Bikes. All 21 suites at the resort are able to be outfitted with a Peloton bike throughout a guest's stay. For all other guests, the bikes are available on a first-come-first-served basis, for a three-day minimum. 
Private Fitness Studio. The studio accommodates up to four people at a time, giving guests access to equipment including an Aqua rower, Peloton bike, treadmill, recumbent bike, arc trainer, Terra Core units, weighted balls and more in a space completely their own. It's also outfitted with UV and HEPA filter air purification systems.
Pickleball. A low-impact sport that's the perfect way for all generations to get moving.
Private Outrigger Canoe Paddling. A 45-minute excursion that will allow guests to encounter local marine life. From December to May in Hawaii, for example, paddlers may even get an up-close-and-personal experience with migrating humpback whales.
Pedego Electric Bikes. This easy-to-ride e-bike allows guests to explore the resort's surrounding area with as little or as much effort as they'd like. Concierges can recommend the most picturesque route. 
"Exercise is essential to overall well-being, so I encourage all guests to find creative ways to work out," advises senior spa director Pat Makozak, who leads the resort's wellness program, including fitness facilities and classes. "Luckily, there are a myriad of ways to stay active, whether it's a Peloton session from the comfort of your own suite or you're out and about exploring."