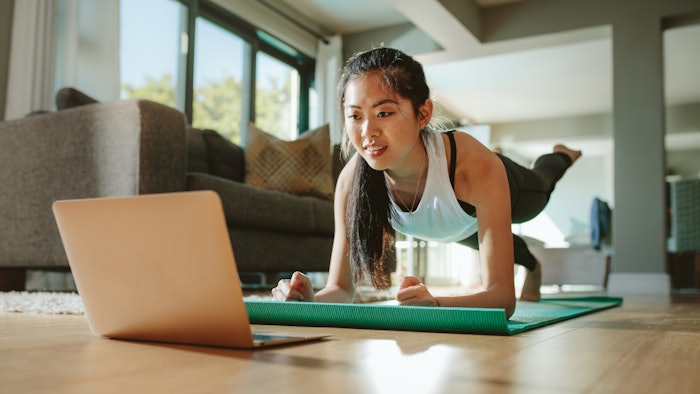 The American College of Sports Medicine (ACSM) has published the results of its annual "Worldwide Survey of Fitness Trends," a comprehensive review with responses from thousands of fitness and wellness professionals, including personal trainers, exercise physiologists, medical professionals and gym club owners. The report aims to monitor, assess, predict and introduce fitness trends that have an impact on the evolution of the sector itself. This year's survey revealed the following trends predicted to emerge in 2021.
1. Online Training
The success of online and virtual training is certainly due to 2020's alternating lockdown periods and fitness center closures, but it has also opened up new perspectives for the foreseeable future, when the pandemic emergency has finally passed. Whether it's at home or at the gym, consumers want to follow their passions—like running, cycling, rowing, strength or functional training—while feeling like they're part of a community, which means working out with their favorite trainer or on their preferred virtual landscape. This trend uses digital streaming technology to deliver group, individual or instructional exercise programs online. It's available 24/7 and can be a live class or prerecorded.
2. Wearable Tech
Fitness trackers, heart rate monitors and smartwatches are useful for both consumers and practitioners to monitor and store biometric data, prompting people to work on their performance and improve it over time.
3. Body Weight Training
The pandemic and resulting restrictions have also encouraged the development of body weight training, which can be done at home with the right guidance. This practice uses the weight of the body as resistance as the client performs simple to complex movements, and consumers will be seeking body weight workouts in person and at home.
4. Outdoor Training
One of the fastest growing trends, which can be combined with indoor training. Outdoor activities such as small group walks, group rides or organized hiking groups have become popular.
5. HIIT
High Intensity Interval Training (HIIT) involves training sessions consisting of high intensity exercises followed by medium- to low-intensity breaks. Its key element lies in the reduction of workout time, which, due to the level of intensity, is effective even when performed for short periods. This type of training can be done in fitness clubs, but also at home or outdoors.
6. Virtual Training
For the purpose of the survey, virtual training was defined as the fusion of group exercise with technology, offering workouts designed for ease and convenience to suit schedules and needs. In this case, virtual workouts are played in gyms on the big screen and attract a smaller number of clients, compared to larger live classes. Virtual classes are often a gateway for live group fitness classes, allowing clients to go at their own pace.
7. Exercise Is Medicine
The medical fitness trend is booming. Exercise is medicine (EIM) is a health initiative that focuses on encouraging primary care physicians and other health care providers to include physical activity assessment and treatment recommendations as part of every patient visit, and referring their patients to exercise professionals. In addition, EIM recognizes fitness professionals as part of the health care team in their local communities.
8. Strength Training with Free Weights
Free weights, barbells, kettlebells, dumbbells and medicine ball classes, in which instructors start by teaching proper form for each exercise and then progressively increase the resistance once the correct form is accomplished. A new exercise is added periodically, and those begin at the form or movement level.
9. Fitness Programs for Older Adults
Exercise is perceived as an opportunity for well-being for everyone, including the elderly. People are living longer, working longer and staying healthy in retirement. This trend underlines the fitness needs of baby boomers and older generations, who generally have more money than younger generations. Fitness clubs could therefore benefit from this growing market.
10. Personal Training
Over the years, the figure of the personal trainer has evolved and become more accessible thanks to the internet in fitness clubs, as well as at home or in workplaces with gyms. People have finally realized that the role of the trainer is essential in assessing one's condition, prescribing the correct training program, and offering achievable goals based on concrete needs.