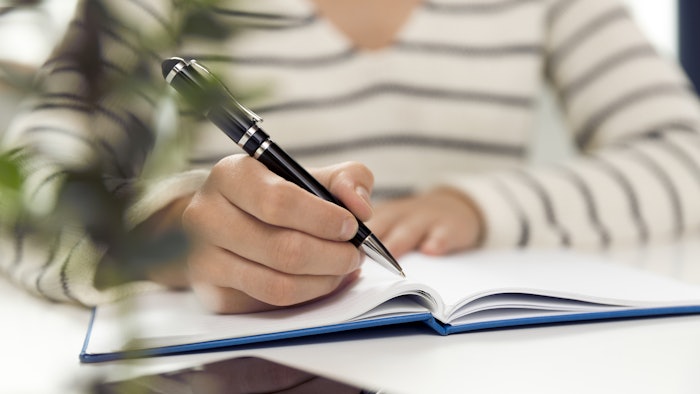 Are you clients dealing with the stress of social media, constantly being connected to technology, and not taking the time to focus on their mental health? Now is the perfect time to recommend journaling or guided writing prompts to help your clients focus on mental clarity and reduce everyday stressors. 
Pen Heaven is encouraging writers of all ages to try this traditional technique proven to help quiet the mind and align the thoughts. Just writing for a few minutes a day can help boost your guests' energy and improve their mood. In addition, handwriting can decrease stress levels, reduce anxiety and help your clients' sleep better. 
Related: Journaling Complements Wellness Programs by Adding Emotional Balance
1. PEW-12
This 12 minute writing technique known as Purge Emotional Writing, or PEW-12 for short, allows your guests the opportunity for self-reflection and is excellent for surfacing repressed emotions, thus reducing stress and easing anxiety.
A key expressive method that helps people let go of deep feelings and thoughts to bring mental clarity, the simple exercise of writing for just 12 minutes a day is an excellent way to cultivate some self-care. Recommend your clients to set a timer and let their words flow freely without their mind getting in the way. Once the time is up, they can purge their words by burning the paper, and forgive and forget.
2. The T.L.C. Method
Ideal for anyone who is new to journaling or those who experience writer's block, the T.L.C. Method is simple and very effective. Focusing on the same three prompts to use every day: Thank, Learn, Connect. This technique not only gives your guests something to write about, but it also makes their journaling transformative.
The steps are easy to follow, but to gain the maximum benefits out of this style, they will need to be specific with each cue. Help your clients think deeply about what they are thankful for and delve into detail about why and what it is. Don't restrict the answers, as we all learn something each day, no matter how small it may be. For connections, think about who they are connected with, along with how their mind connected information and moments. This method is one that works in the moment, along with offering reflective benefits that they can continue to learn from.
3. Freewriting 
Devised to get those creative juices flowing and free the mind from a mental block, Freewriting has long been a favorite with authors and teachers. Giving the writer the freedom to think as they write, without pause for grammar and spelling mistakes, this technique works for any level of writer. 
Championing the handwritten word, this powerful practice will help overcome blank page syndrome, capture all your guests thoughts, and uncover creative ideas. To start, help your clients allow their thoughts to pour out onto the page without any specific prompt in their mind. Continue with their cursive until their mind is empty.