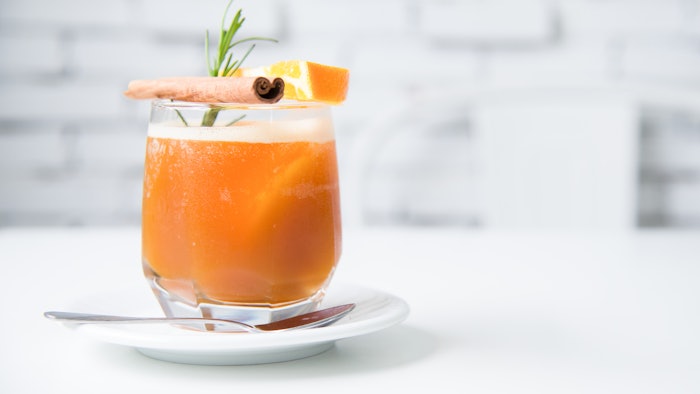 The start of the new year is a time for your clients to make goals and create healthy habits after an indulgent holiday season. Many opt for a "Dry January," abstaining from alcoholic beverages for the entirety of the month. 
With that in mind, The Virginia Hotel will ring in 2023 with Winter Wellness Weeks from Jan. 9-12 and 16-19, during which time it will offer healthy dining with vegetable-forward ingredients and lean proteins, along with a totally dry bar serving detoxifying artisanal mocktails.
Get inspired with these six mocktails perfect for Dry January. 
Related: Detox Drink Recipe to Add to Your Spa Menu
1. Rhubarb Spritz 
The Rhubarb Spritz contains Seedlip Grove 42 ( a nonalcoholic spirit made with Mediterranean orange, lemon peel, lemongrass and ginger), Rhubarb Cordial and Fever Tree Aromatic Tonic.
2. Spiced Hibiscus Margarita
The Spiced Hibiscus Margarita is made with made with Seedlip Spice 94 (featuring allspice and cardamom), agave syrup, hibiscus tea, and Fever Tree Lime and Yuzu (a zesty mixer that typically complements tequila or mezcal). 
3. Orange Blossom Highball
The Orange Blossom Highball features Seedlip 42, honey syrup, orange blossom water, lemon juice and Fever Tree Lemon Tonic.
4. Toddy
The Toddy contains Seedlip Grove 42, raw sugar and hot tea. 
5. Espresso 'MartiNO' 
The Espresso 'MartiNO' is made with Seedlip Spice 94, cold brew coffee concentrate and sugar syrup.
Related: Why Turmeric is an Ayurveda All Star
6. Humble Root Mary
The Humble Root Mary features Seedlip Spice 94, carrot juice, maple syrup, lemon juice, turmeric powder and cayenne pepper.