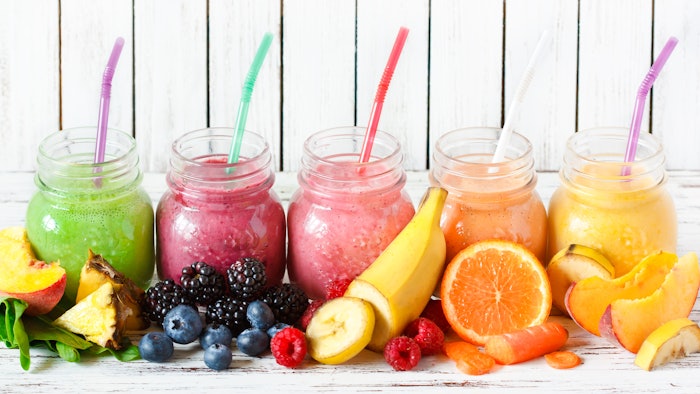 It's no secret hat consumers are becoming more invested in whole health from the inside and out. Lucky for us, the spa and wellness industry is uniquely positioned to provide these services. That's why WellSpa 360, formerly Dayspa magazine, is committed to providing the latest trends and updates on the wellness industry. We have officially rebranded to become your main resource for whole health and wellness in the industry.
Related: Dayspa is Now WellSpa 360
Purposeful Smoothies
Smoothies are a nutritious and delicious way to get people excited about working on their health. They're easy to add to your spa and resort refreshments menu, and they're becoming more popular by the day.
Vitamix and Smoothie King discussed how blends for smoothies are becoming less sweet and more focused on specific health-related purposes through interesting plant-based ingredients, herbs and spices. "In lieu of sweetness, people are becoming open to new and different combinations of flavors in their smoothies, for example, basil and strawberries or mango and chipotle," explained Matt Dugan, corporate executive chef at Vitamix. "The American palette, especially among the younger audiences, is become more enterprising, curious, and open to new, unfamiliar flavors."
Consumers want smoothies that have more purpose and are more in line with their personal health goals. "People are not just seeking out healthy foods—they are looking for a combination of ingredients that will serve a tangible and specific purpose," Rocky Gettys, vice president of product development for Smoothie King explained. 
One way to capitalize on this trend is by creating purposeful smoothies and titling them according to what they accomplish, like pre- or post-workout smoothies. Other popular tags that provide smoothies with a purpose include immune health, joint health, energy boosting, detoxification, weight loss, managing anxiety, staying fit, staying clam, protein packed and muscle building. These are all phrases that can be included to revamp your spa smoothie menu or even act as inspiration to draft up some new smoothie recipes.
This also applies to seasonal flavors. For example, the Smoothie King's Hydration Watermelon—containing watermelon and an electrolyte blend that contains sodium, potassium and other electrolytes—is limited to the company's summer menu. Make sure that when titling these smoothies they are living up to the purpose you are saying they provide through the ingredients you use and the recipe you create. 
Vitamix and Smoothie King are predicting that this trend of purposeful smoothies will not only continue to grow, but will also advance into brain health, skin health and seasonal boosters, like cold and flu season in the winter and hydration in the summer. 
Related: Taste: Mango Lime Smoothie
Less Sugar, More Plants
One driving factor into the more purposeful and less sweet smoothies is the public's concerns around excessive sugar. Gettys and Dugan both predict a decrease in sugary smoothie ingredients like honey, sherbet, sorbet, fructose, purees and syrups.
Meanwhile, ingredients that are expected to become more prominent include spinach, carrots and other vegetables. "The blending of tropical fruits with greens is a real winner in today's smoothie market," Gettys noted. "You have to remember that while a smoothie must be healthy, it also needs to taste good. So, mixing the antioxidant richness of vegetables with the allure of tropical flavors is the sweet spot for smoothies right now."
"We are seeing a fast-growing interest in anything plant-based," added Dugan. "It's not just vegans and vegetarians who are interested in plant-based nutrition. There is a broad-based awareness that vegetables, berries, seeds and whole grains play a very important role in our diet."
Apart from the typical fruits and veggies that are used in smoothies, herbs and spices are also helping to manage sugar content while adding flavor. As smoothies continue to evolve, Dugan and Gettys maintain that the category remains essentially stable as a nutritious, calorie-dense beverage that benefits one's health.
Related: 5 Fun Summer Cocktails for Clients on Vacation
Customized Menus
Some staple fruits include strawberries, mangos and bananas, but there are some indulgent ingredient options like nut butters, chocolate and frozen yogurt. With this in mind, customization is an important component for any spa and resort smoothie menu. This is especially key as the idea of what is healthy changes in the public eye. 
"No smoothie operator wants to play nutrition police and force consumers into a rigid set of guidelines. We're here to give people flexibility to choose what is right for them," Gettys explained. "That's why you are going to see more customizable options on smoothie menus, even as the menu overall becomes less sweet and more healthy."
According to market research, the generation most interested in smoothies is gen Z, closely followed by millennials. These are also the generations most interested in choice and customization. "The best model for customization is one that holds some ingredients stable while inviting choice on some others," Gettys explained. "For example, customers can substitute one fruit or vegetable for another; choose among nut butters; or choose between milk and other non-dairy options, like oat milk and almond milk. We are always open to substitutions at Smoothie King, but we also want to steer our customers toward what tastes good."