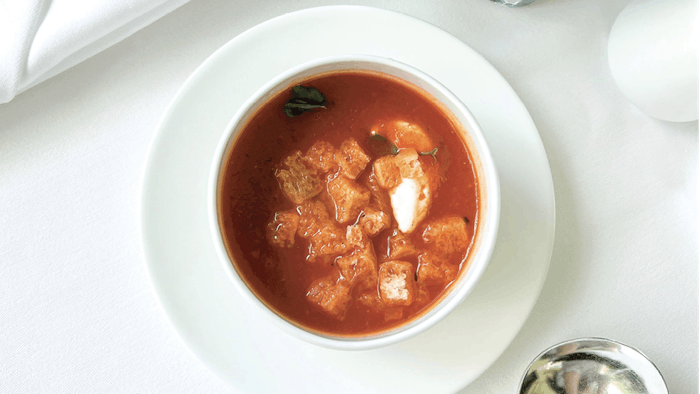 As we carry on through winter, one of the best ways to keep the chill at bay is with a comforting bowl of soup. The idea of making your own soup can be daunting, especially for spa pros during their busiest season, but you can keep the recipe simple without skimping on flavor (or nutrition).
Take this Vine Ripened Tomato Soup, served at the award-winning Orchids restaurant at Halekulani in Honolulu, as inspiration. The ingredient list is short and sweet, and the recipe is just a couple of steps. Plus, the dish is almost entirely made of fruit and vegetables, so it's delivering essential nutrition and hydration in addition to warmth and comfort.
Halekulani's version uses local tomatoes, and you'll get the same benefits if you do the same. Tomatoes are a great source of vitamin C, so this dish is especially ideal during cold and flu season. They also contain antioxidant lycopene with myriad health benefits, including better heart health.
It's an easy recipe to meal prep, and savvy spa pros who make a batch in advance will be happy to come home to a healthy, hot bowl of delicious tomato soup.
Vine Ripened Tomato Soup
Yields 4 servings
6 large vine ripe Kamuela tomatoes, whole scored
1/4 medium onion, diced
1 stalk celery, diced
1 medium carrot, diced
2 sprigs thyme
1 can Italian tomatoes, pureed
4 cups chicken stock
Sugar and salt to taste
Place tomatoes, onion, celery, carrot, thyme, pureed Italian tomatoes and chicken stock in a pan and roast in oven for 45 minutes. Place in a pot and reduce to thicken. Blend if desired. Season with sugar and salt to taste, and serve with creme fraiche.
Courtesy of Halekulani