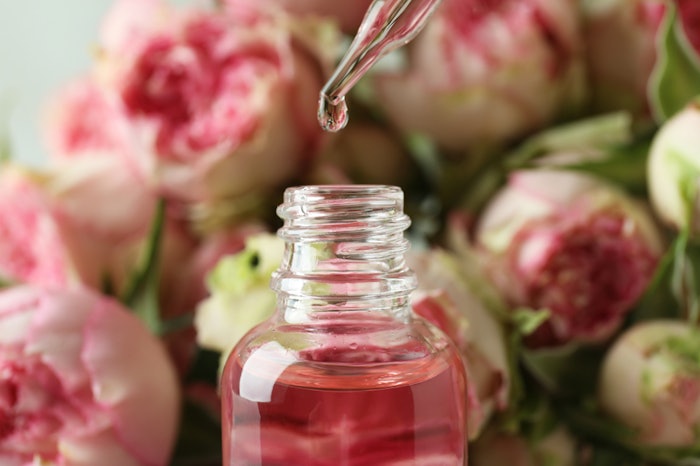 I am deeply committed to helping people find and keep their perfect glow. My techniques are a culmination of years of development and testing, on myself and my clients, to ensure that I can deliver remarkable results with integrity.
I always suggest selecting the highest quality natural ingredients for your clientele. Traditional anti-acne and antiaging skin care products can contain harsh ingredients that may exacerbate skin problems in the long term. They often treat the external symptoms while ignoring the core of the issues.
Products can be formulated not only to serve a specific purpose for the skin, but to provide your clientele with a luxurious experience. I'm talking products that go more than skin deep; their aromatherapeutic value should uplift the mind and spirit, enhancing their overall experience inside and out. Whenever possible, use organic ingredients and research new technology for products that can deliver powerful results.
With that in mind, here are some of my favorite, top-performing botanical ingredients.
1. Organic Essential Oils
Harnessing the beauty of nature's bounty, cold-pressed organic essential oils are wonderful for their medicinal and cosmeceutical potency. Beguilingly fragrant, the healing components are equally mood-boosting and spiritually cleansing. Some of my favorites are basil, carrot, eucalyptus lemon, jasmine absolute, litsea, rose absolute, pink grapefruit and peppermint.
2. Organic Carrot Seed Oil
Skin-mending and collagen boosting, this essential oil nourishes, tightens and rejuvenates, diminishing fine lines and other signs of aging. It showcases all of our favorite "anti" assets: antiseptic, anti-parasitic, antifungal, anti-inflammatory, antioxidant and antibacterial. It's a marvel for soothing away anxiety and stress.
3. Pink Grapefruit Essential Oil
Rich in vitamin C, this exquisite oil's antioxidants fight against the natural oxidation of skin tissue, counteracting free radical damage. Antiviral and antimicrobial, it is formidable for treating blemishes, acne and dark spots and preventing future breakouts. Uplifting to the senses, the tangy, citrusy fragrance works wonders to naturally uplift mood, fight fatigue and ease headaches.
4. Organic Calendula
Derived from the magnificent marigold plant, calendula is soothing, nourishing and offers a bounty of antioxidant vitamin C. Antiviral and antimicrobial, it's spot-on for treating acne and preventing future breakouts. Uplifting to the senses, calendula oil works as a fragrant mood balancer. 
5. Organic Aloe Vera
This organic gel or juice contains more vitamins and minerals in a cold-pressed process. The superfood calms, cools and heals damaged and inflamed skin instantly, and you can drink it daily for overall health and well-being.
6. Organic Pomegranate Seed Oil
In cold-pressed form, this oil is rich in antioxidants. Chock full of vitamin C, pomegranate oil packs powerful regenerative and antiaging properties to keep wrinkles and sagging at bay, revealing a glowing complexion.
7. Organic Coconut Oil
A marvelous, time-tested moisturizer that doesn't clog pores, cold-pressed coconut oil makes skin irresistibly supple. It's also antifungal, antibacterial and antimicrobial, meaning it's great for fighting acne, breakouts, psoriasis and eczema.
8. Organic Cucumber Extract
Rich in vitamin A and folic acid, cucumber extract nourishes skin with minerals such as magnesium, molybdenum and potassium that smooth, soften and hydrate. It traps moisture in the dermis, keeping it calm, bright, healthy and glowing. An excellent source of silica, it strengthens the skin's connective tissue.
9. Organic Green Tea Extract
Green tea is a powerful superfood and formidable free-radical scavenger that contains concentrated antioxidants, catechins, polyphenols and vitamins that help prevent cell damage, reduce inflammation, unclog pores and fight acne. Green tea even inhibits the growth of melanoma cells, making it a smart choice for preventing skin cancer.
10. Raw Organic Cacao
Dubbed "food of the gods" by the Mayans, this powerful ancient super fruit is loaded with antioxidants, vitamin C and omega-6 fatty acids to promote cellular healing while blocking harmful radicals in the body.
11. Sea Kelp
Enlist the healing bounty of the sea with this anti-inflammatory ingredient, which features properties that help reduce redness and irritation from the environment, dryness and existing skin conditions prone to flare-ups or breakouts.
12. Cinnamon
This warm and fragrant spice boasts amazing benefits as a skin care ingredient. It is a rich source of anti-inflammatory and antioxidant polyphenols, it supports skin health to minimize lines and pigmentation. Exquisitely antifungal and antibacterial, cinnamon is also effective for treating and preventing acne and breakouts. Its universally beloved, comforting yet uplifting fragrance is said to ease stress and relieve pain.
Jenette Serrins has spent many years healing skin from the inside out, she has over 20 years of experience in the beauty industry and has been a Spa owner for over 15 years. Jenette has a BA in communications and is educated in Ayurvedic medicine. She founded Jenette All Natural Skincare in 2012. Jenette is deeply committed to sourcing ethically grown, chemical-free ingredients from around the world, Jenette's unique approach combines eastern and western philosophies to provide her clients with products as powerful as they are pure.Her innovative approach is firmly rooted in using pure and effective ingredients that are sulfate free, paraben free, glycol free, silicone free, gluten free, petroleum free, PEG free, and tested on humans.