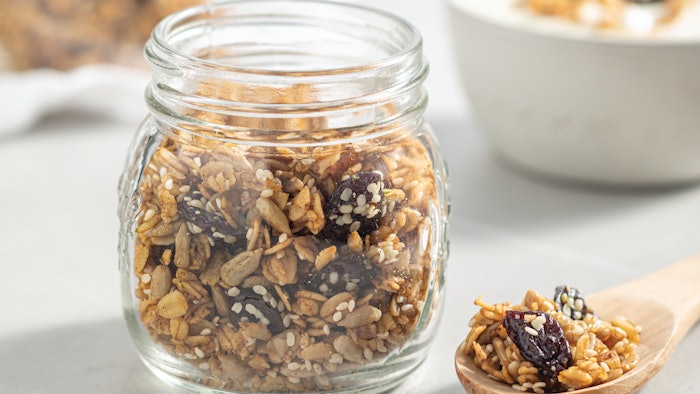 It's now common knowledge that lots of concerns, from signs of aging to bodily aches and pains, can be tied to inflammation. For delicious and nutritious recipes that also help mitigate internal inflammation, look no further than The Anti-Inflammatory Family Cookbook (Adams Media, 2021).
Written by Stefania Patinella; Alexandra Romey; Hilary McClafferty, MD, FAAP; Jonathan Deutsch, PhD; and Maria Mascarenhas, MBBS, the recipes rely heavily on specific spice blends. "Herbs and spices are nature's most potent anti-inflammatory compounds, due to flavonoids and other plant chemicals," explains Patinella, adding that the spice blends are also incredibly flavorful. "In cooking, they're the healthy equivalent of salt, sugar and fat—they make foods not just ok, but really craveable and yuuuuummy!"
This Anti-Inflammatory Granola is versatile and lower in sugar than store-bought options, plus its Sweet Spice Blend contains cardamom to fight inflammation and support digestion. The olive oil, cherries, nuts and seeds are also anti-inflammatory, and the dish's protein, fiber and healthy fats will help spa pros start their day right-all while keeping inflammation in check!
Continue reading our Digital Magazine for the anti-inflammatory granola recipe and spice blend...