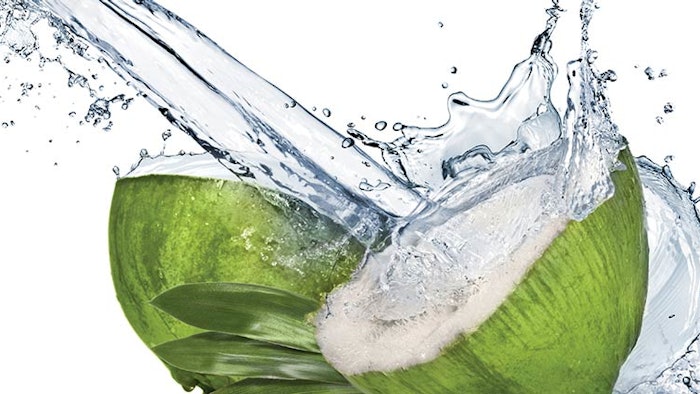 Known as the "tree of life" throughout history, the coconut palm is one of several species revered as divine "wish-fulfilling" trees in Hindu mythology. These references stem from the fact that all parts of the coconut tree are both useful and life-sustaining, supplying not only building materials and sustenance but cooking and hair oils, bowls, brooms, baskets, mats, dye and mouthwash, toys, whistles and even toothbrushes to generations of indigenous communities.
In Ayurveda, the coconut and coconut water are classified into three categories based on maturity, each with different qualities. Pavka is fully mature; madhyama is half mature; and baala describes the baby or tender coconut, which contains the water that's considered the most healing.
Ayurvedic texts mention tender coconut water's sweet taste and cold potency with qualities that range from deepana (digestive stimulant) to snigdha (lubricating); hrudya (cardioprotective) to shukrala (aphrodisiac); bastishuddhikara (cleans urinary tract system) to aashu (fast acting once absorbed). In terms of digestion, it's described as guru, meaning it takes a long time to digest. For this reason, it's recommended to drink tender coconut water on an empty stomach.
Further indications include the use of tender coconut water to combat the common cold and general fatigue, as well as daha (burning sensation), shosha (emaciation), bhrama (giddiness) and pitta jwara (fever due to pitta imbalance). It can also help to control blood issues such as nasal bleeding and heavy periods, as well as inflammatory conditions like gout. Its detoxifying properties are enhanced by the fact that it lubricates dryness, thus unclogging the body's channels.
For all of these reasons, tender coconut water is ideal in the spa setting—an Ayurvedic, nutritional ingredient that can boost the health and well-being of almost any client.
Body Benefits
In recent years, tender coconut water has been found to contain many naturally occurring bioactive nutritive compounds and enzymes, such as cytokines, lauric acid, acid phosphatase, catalase, dehydrogenase, diastase and RNA-polymerases. It's also a good source of B-complex vitamins such as riboflavin, niacin, thiamin, pyridoxine and folates, which are vital for cell health and metabolism, energy levels and brain function.
Well known as a post-workout booster, the drink's famous hydrating properties are due to the presence of important electrolytes like potassium—nearly twice the amount found in a banana—magnesium, calcium, sodium and phosphorous. All this without the calories or sodium content of other sports drinks. Interestingly, this electrolyte balance is similar to that of human blood, meaning that for hydration and healing it beats all other drinks as a hangover cure. Plus, with a pH value of between 6.2 and 5.2, tender coconut water is a soothingly alkaline ingredient once digested.
Continue reading about the body benefits of coconut and how to use it in your spa in our Digital Magazine...
Shylesh Subramanya is an Ayurvedic doctor and director of The Spa & Ayurvedic Retreat at Four Seasons Resorts Maldives at Landaa Giraavaru. He is a lifelong scholar of nature, lifestyles and culture, having come from a family of healers. Dr. Subramanya's motto is "Health and happiness," and he aims to help others find both in natural, holistic ways.