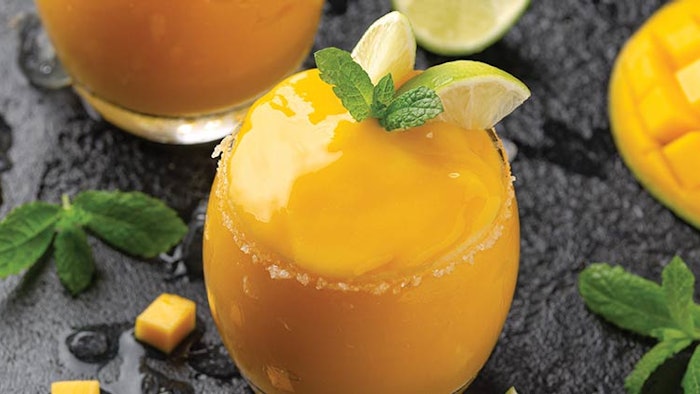 Since the beginning of the year, the collective demand for wellness and rejuvenation has been evident even in food trends highlighting nutrition and upbeat colors. Clearly, it's time for a brighter outlook. With May ushering in spring and, with some luck, the beginning of an end to the pandemic, now may be the perfect time to serve spa guests a lively yellow treat that's restorative, rejuvenating and nutritious.
Enter this Mango Lime Smoothie, a recipe by Andrew Shaffer, sous-chef with Vitamix Corporation and member of the American Culinary Federation. This drink mixes mango, citrus, ginger and coconut, producing an energetic vibe and nourishing twist to tropical flavors. Antioxidant-rich mangoes, frozen in this case, serve as a source of beta carotene and vitamins A and C, which encourage immune system function, iron absorption and the growth and repair of body tissues. Using the frozen variety adds sweetness and helps thicken the blend, while coconut water and apple juice add additional notes of flavor and heart-healthy potassium. Bright in both flavor and color, this smoothie also benefits from a slice of citrus and the inimitable lift of ginger.
"The beauty of this mango lime smoothie is not just its buoyant color and tropical ingredients, which are uplifting at this time of year as we are anticipating spring," says Shaffer. "It's also the combination of sweet flavors and tartness, which makes it a perfect tonic after a relaxing spa experience."
Shaffer, who supports the culinary team at Vitamix with recipe preparation and testing, suggests offering the smoothies as a seasonal, made-to-order treat or portioning small sample cups of the blend that can be offered to spa guests anytime.
Continue Reading our Digital Magazine for the Mango Lime Smoothie recipe...