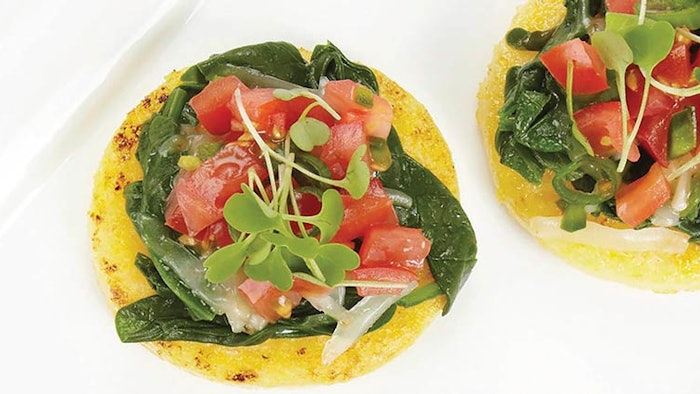 Breakfast has long been touted as the most important meal of the day, and here at Dayspa, we're inclined to agree. Busy spa professionals can spend hours working with back-to-back clients, from facials and bodywork to energy healing, and a balanced breakfast can be key to starting a productive day.
When you're fully booked, consider taking a page from FOOD FOOD FOOD, the recently published cookbook from renowned wellness retreat The Ranch Malibu in California. Featured are these Polenta Spinach Breakfast Cakes—a healthy plant-based option that's both delicious and nutritious. "Polenta is a gluten free, complex carbohydrate full of fiber and protein," explains Meredith Haaz, chef at The Ranch Malibu. "Topping it with vitamin-rich spinach and enjoying for breakfast will keep you full and energized for the day."
Indeed, the combination of protein and fiber from the polenta, plus high levels of energizing iron, magnesium and potassium in the spinach will ensure that operating at the top of your game will be, well, a piece of cake!
Continue Reading our Digital Magazine for the Polenta Spinach Breakfast Cakes recipe...
Captions: Courtesy of The Ranch Malibu