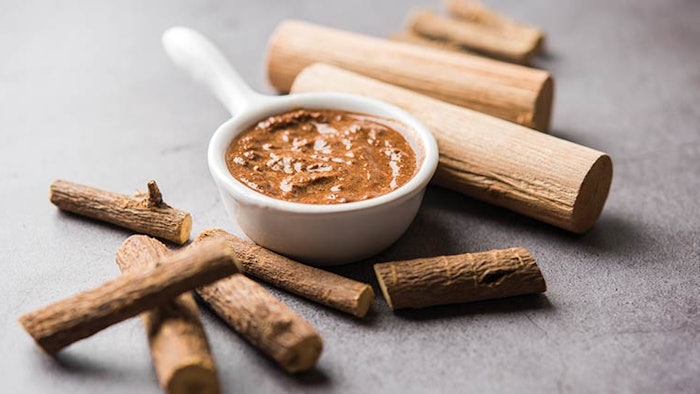 The botanical name of licorice is Glycyrrhiza glabra, and it belongs to the family of Fabaceae, which also includes legumes like peas and beans. Licorice's numerous uses and benefits all come from its root, which is where we're able to extract that sweet flavoring featured in candy, beverages and other items, as well as a component of Ayurvedic medicine.
The plant grows in subtropical and warm climates, mostly in Mediterranean countries. In India, it's mainly harvested in the states of Jammu and Kashmir, Gujarat and Haryana. Historically, it has played an important role in many Indian households: Its root is chewed when someone loses their voice due to a cold or throat irritation, and it's also used as a cough expectorant.
In Ayurveda, licorice is called madhuyashti or yastimadhu, from Sanskrit. It has been used in Ayurvedic medicine for more than 2,000 years, as well as in other alternative systems of medicine such as Siddha and Unani.
Licorice is also frequently found in skin care creams and serums, thanks to its ability to help remove dark spots, soothe irritation and brighten overall skin tone; it does this by inhibiting tyrosinase, which is an enzyme that catalyzes the production of skin pigments like melanin–hence licorice's reputation for preventing hyperpigmentation.
Licorice has been traditionally used as an insecticide, laxative, anti-inflammatory, antiulcer, antiviral and antibiotic, as well.
Body Benefits
Often utilized as an immunity booster, licorice increases levels of interferon–a key chemical used by the immune system to keep viruses at bay–when ingested. It's also frequently implemented as an expectorant, as it helps expel phlegm from lungs and promote respiratory healing. Rich in phytoestrogens, licorice is popular for easing the symptoms of menopause and premenstrual syndrome, as well, including issues like irritability, bloating and breast tenderness.
Modern research suggests that licorice can act as a natural steroid without the risk of side effects or dependency. We see this in Ayurveda, too, as ghee preparation with licorice is administered along with radiotherapy and chemotherapy to control the adverse side effects of these particular treatments.
In daily life, licorice tea has become hugely popular and has plenty of health benefits, too, from easing sore throats and coughs (as a result of its anti-inflammatory properties) to eliminating the free radicals that cause premature signs of aging (thanks to its antioxidant properties).
Continue Reading about the body benefits of licorice root and how you can use it in your practice in our Digital Magazine...
Shylesh Subramanya is an Ayurvedic doctor and director of The Spa & Ayurvedic Retreat at Four Seasons Resorts Maldives at Landaa Giraavaru. He is a lifelong scholar of nature, lifestyles and culture, having come from a family of healers. Dr. Subramanya's motto is "Health and happiness," and he aims to help others find both in natural, holistic ways.