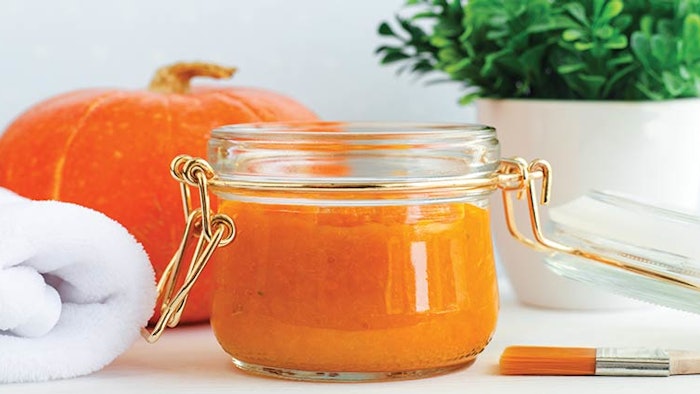 With the arrival of autumn and cooler weather, it's also a great time to start treating clients' skin with one of the most nourishing ingredients there is: pumpkin!
Pumpkin, like other squash varieties, originates from the regions around northern Mexico and the southern U.S. The nutrient-dense flesh and seeds have been used for thousands of years for human consumption, medicinal purposes and even as weaving material. Pumpkin's hearty, vitamin-packed nutritional benefits are as relevant inside the body as well as topically; in fact, its sap and pulp have even been used as a traditional treatment for burns.
Body Benefits
With the widespread research and use of alpha and beta hydroxy acids for treating signs of aging and acne symptoms, pumpkin has been found to contain naturally occurring versions of salicylic, malic, citric and fumaric acids—all of which are great at exfoliating to smooth lines and wrinkles, even tone and texture, and unclog pores. The gourd's flesh and seeds are also high in beta-carotene, a precursor to vitamin A that the skin and body converts into retinoic acid. So, it works as a natural retinol when eaten for healthier skin and immunity, and boosting cell turnover when applied topically.
In skin care, pumpkin is a powerful yet gentle exfoliator, thanks to its natural acids and enzymes, which makes it an ideal ingredient for rough or bumpy skin, signs of aging and acne. It also contains high levels of beneficial fatty acids and antioxidants, which nourish and hydrate skin while protecting it from free radicals.
The smell of pumpkin and pumpkin spice have their own mood-boosting benefits, in that the aromas create a sense of warmth, comfort and nostalgia—definitely the driving force responsible for pumpkin spice latte popularity in the fall. But, pumpkin-spiced spa treatments certainly come with less sugary side effects, not to mention more skin and body benefits than pies and lattes!
Continue reading to see how pumpkin can be used in your practice in our Digital Magazine...
Nicole Mandallaz is the owner of Meta Skin Studio and creator of Meta Skincare products. She specializes in corrective holistic skin care, as well as skin nutrition with an emphasis on acne and aging. Mandallaz worked for hotel spas and dermatologists as a lead esthetician and national trainer in Los Angeles and Palm Springs before creating her own brand in 2017.