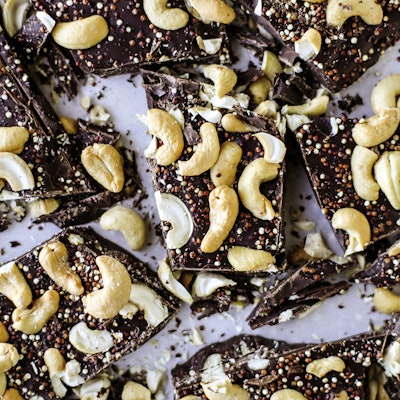 Just because something is sweet doesn't mean it can't offer more than a sugar rush. Take this artful-looking bark, which provides a healthy jolt of energy and nutrients. "There are definitely antioxidants in our dark chocolate!" enthuses Jessica Merchant, author of
The Pretty Dish: More Than 150 Everyday Recipes and 50 Beauty DIYs To Nourish Your Body Inside and Out 
(Rodale Books, 2018). "Plus the quinoa is a complete, amino acid-rich protein, and cashews are a great source of healthy fats with an extra bit of protein."
When making this festive treat, Merchant suggests using chocolate with 70 percent cacao. "The best quality chocolate doesn't have artificial ingredients or flavorings," she notes. Toasting the cashews in a separate skillet and tossing until they are a bit golden and fragrant will impart a delicious and buttery, slightly smoky flavor. Scattering dried apricots or cranberries will give the bark an extra layer of texture and a dash of color—an ideal spa snack during the holidays. And presentation is a snap: "Simply break the bark apart into small pieces and place them on a platter," says Merchant.
RELATED: Taste – Overnight Oats With Cardamom and Pistachios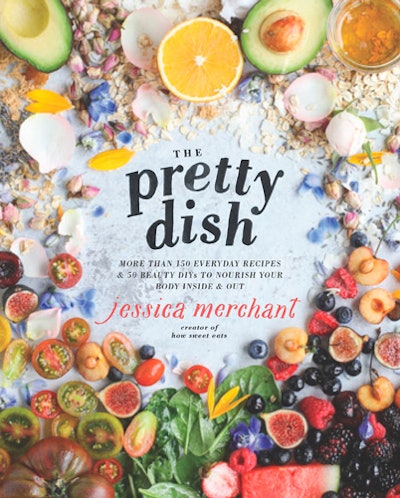 Toasted Quinoa Casher Chocolate Bark Recipe
Yields 8 servings
1 cup dry quinoa
1 lb. dark chocolate, chopped
1 cup cashews, chopped
4 oz. white chocolate, chopped
Add quinoa to a skillet and cook over medium heat, stirring and tossing often, for 5 to 6 minutes, or until it becomes fragrant and pops. Set aside. Place dark chocolate in a bowl and melt, using a double boiler with simmering water or microwaving at 50 percent power in 30-second increments. Line a baking sheet with parchment paper, and spread melted chocolate in a rectangle (or any preferred shape). Immediately sprinkle toasted quinoa and cashews over the top. Let sit about 1 hour, until firm; you can also place it in the refrigerator. Melt the white chocolate. When the bark is ready, drizzle it with the melted white chocolate and let cool until firm.
–by Marina Kay