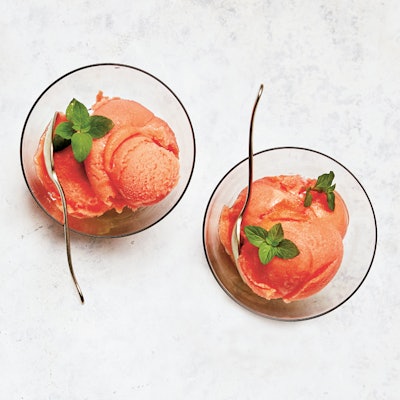 At the height of summer, there's perhaps no indulgence better than eating something cold and sweet—and the more fresh fruit, the better! Enter this mouthwatering guava sorbet from
Cuba: The Cookbook
(Phaidon, 2018), which gives readers a taste (literally) of island life by pairing vibrant photos of Cuban street scenes and lush landscapes with home-cooked cuisine.
Authors Madelaine Vázquez Gálvez and Imogene Tondre note that they did tweak the original Cuban recipe in this case. "Various fruit sorbets in Cuba originally came from the Chinese influence, and were made without milk," they explain. "However, since an ice cream maker isn't used for this recipe, the addition of milk adds consistency and flavor to the sorbet and prevents it from becoming granulated."
RELATED: Taste – Cinnamon Pear Chips
Meanwhile, sweet potatoes add texture and taste, and can be easily substituted with boiled cassava root or white potatoes. Guava should be ripe, organic, in season and fragrant. "Depending on the variety of the guava, it will look pinkish-yellow or white on the outside, and bright pink on the inside," say the authors. Guava can also be substituted with papaya, mango, banana or pineapple, among other fruits.
Guava Sorbet Recipe
Yields 6 servings
1/2 small white or yellow sweet potato, peeled and cut into chunks
4 tsp. salt
4 Tbsp. sugar
4 medium unpeeled guavas, cut into chunks
2/3 cup whole milk
1/4 tsp. salt
Mint leaves for garnish
RELATED: Taste – Green Immuni-Tea
In a small pot, combine the sweet potato with water (water should come up to 3/4 inch above potato). Cover and cook until softened, about 20 minutes. Drain and set aside to cool. In a small saucepan, boil the sugar and 3 Tbsp. water for 5 minutes to make a simple syrup. Set aside to cool. In a blender, combine guava, cooked sweet potato, simple syrup, milk and salt, and blend well. Strain and put into a metal pie dish to partially freeze, about 2 hours. With a fork, stir the mixture to break up the ice crystals. Repeat this process 3 times every 45 minutes to add some air. Decorate with mint leaves and serve.
DAYSPA readers can buy the book here and get a discount by adding CUBA30 at checkout. 
For your chance to win a copy of Cuba: The Cookbook, find @dayspamagazine on Instagram.
–by Marina Kay