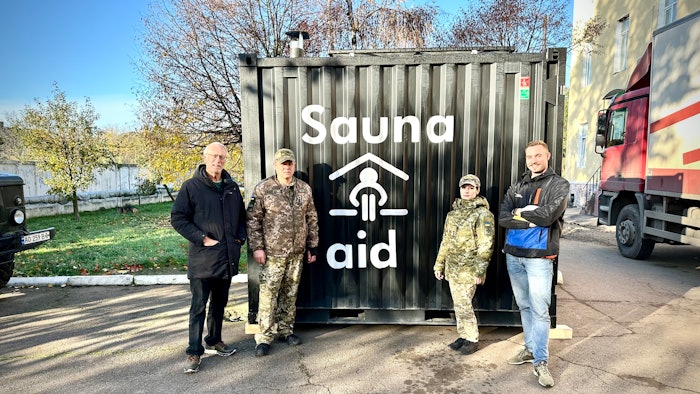 Photo courtesy of Sauna-Aid
The International Sauna Association (ISA), as well as numerous national sauna associations, are requesting the help of supporters to raise funds for Sauna-Aid, a non-profit focused on bringing the healing power of sauna to war-torn Ukraine and its fleeing refugees. 
The global charity has raised €20K in its first year, and has set the fundraising goal of €100K for 2023. The organization urgently requires an additional €15,000 to cover basic equipment costs and delivery of a container sauna generously provided by Slovakia-based Pixxla Sauna, and already in use in Kharkiv. 
Related: Breaking Down Sauna Aufguss
Sauna-Aid is actively collaborating with local and global NGOs to expand sauna deployment in Ukraine into schools and churches. The organization is also developing standards and blueprints for home-grown tent sauna manufacturing to speed up deployment wherever Sauna-Aid is needed in the world. 
In addition, it is expanding its sauna trauma training program for bath attendants, and planning to create and maintain a database of volunteer bath attendants and participating bathhouses ready to support Sauna-Aid's efforts in the Ukraine and globally. 
"Sauna bathing means different things to different cultures. In Ukraine, as with much of Eastern Europe, the sauna (aka banya or laznia) is not considered a luxury, instead, it's an essential part of everyday life. It brings joy, healing and a sense of belonging," said Mikkel Aaland, Sauna Aid volunteer and author/host of the Perfect Sweat documentary. "What other human activity combines the physical, social and spiritual under one roof?"