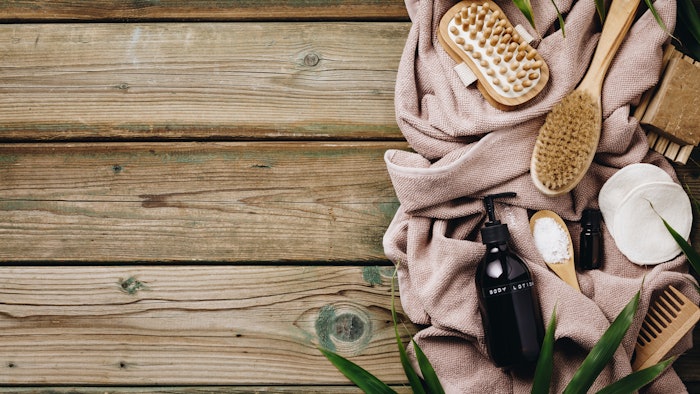 As the climate crisis grows ever more undeniable, increasingly green-minded consumers are using their purchasing power to support eco-friendly enterprises. This includes spas, just like yours. In fact, eco-friendly spas can make a significant global impact.
To count yourself among such spas and attract enviro-conscious clients, consider these five eco-friendly practices to adopt in your spa.
>
1. Adopt Green Construction Practices 
It all begins with eco-friendly design practices. Seek out recycled, renewable and non-toxic building materials, and opt for sustainable building methods.
For example, wooden building materials (and even furniture) should be sourced from renewable forests that follow sustainable farming methods. Recycled wood is also a more eco-friendly option. Avoid wooden furniture made of compressed boards, as these get treated with toxic chemicals like formaldehyde.
This aversion to toxic chemicals should extend throughout the construction and interior design process. Take care, for example, to only use non-toxic paints on both the interior and exterior of your spa.
Don't worry if this all sounds way too complicated. There are experts you can hire to help you set up a green plan for your spa design. Architects and designers certified by the Leadership in Energy and Environmental Design (LEED) Green Building Rating System have the skills and knowledge to create spaces that are comfortable and aesthetically pleasing, as well as kind to the environment.
Related: 5 Tips to Incorporate Sustainability Initiatives Into Your Business
2. Audit Your Carbon Footprint
Figure out what you need to do to reduce your carbon footprint by taking stock of your spa's existing energy usage. You can do this via a free online energy-use calculator or even have your site evaluated by the U.S. Green Building Society (the oversight body of the LEED rating system).
LEED membership is also something you can advertise to customers to prove your spa's commitment to a greener world. Repeat this energy audit on a yearly basis to remain true to this commitment.
3. Replace Systems to Conserve Non-Renewable Resources
A major way in which you can be kinder to the environment is, obviously, by using as little of our non-renewable resources as possible. Your eco-minded guests will love it and (bonus) you'll save a whole lot of money in the process.
Let's look at the two non-renewables that are typically consumed in copious amounts by spas: electricity and water.
4. Reduce Energy Consumption
With your energy audit in hand, you are now equipped to identify the largest contributors to electricity usage in your spa. You are ready to begin the process of replacing energy-inefficient equipment and appliances with low-consumption alternatives, reducing your electricity bill by up to 75%.
Investigate the US Environmental Protection Agency's (EPA) Energy Star program to find out more about energy-efficient products. You could even earn Energy Star certification to show off your green credentials to your clients and partners.
Let's look at the primary ways in which your spa uses electricity and how you can reduce your consumption. 
Lighting 
Switch to energy-efficient lighting and lighting fixtures. One option is LED lighting, which is far more energy efficient and can last as much as 50 times longer than incandescent bulbs. You can further reduce energy consumption by installing dimmer switches to only use as much light as you actually need.
Access more natural light by installing more windows, if possible. Also consider Venetian blinds and lightweight curtains to let in as much sunlight as possible.
Heating, Ventilation & Air Conditioning (HVAC)
The most effective way to minimize energy consumption while also keeping your spa guests comfortable is to make use of energy-efficient HVAC methods:
Add high-efficiency filters to your HVAC system
Fill air gaps around doors and windows via weather stripping and caulking
Utilize a smart thermostat, programmed to 78°F for heating and 68°F for cooling, with the capacity to automatically adjust to ambient temperatures
Use ceiling fans to facilitate air circulation
Generate shade for your HVAC condenser
Increase sun exposure by adding film to windows
Install double-pane windows
To further reduce energy consumption, install solar-thermal water-heating systems for your showers and Jacuzzis.
Water
Did you know that the average amount of water used for a single shower is around 17 gallons? Imagine how much more water gets used by all the guests in your spa every day. Here are just some of the ways in which you can greatly reduce your spa's water consumption:
Install low-flow, waterwise shower heads, aerators, toilets and basins
Treat and reuse waste water wherever possible
In addition to reducing water consumption, these solutions will have the knock-on effect of further lowering your electricity bill.
Related: 3 Small Changes to Minimize Waste in Your Spa
Reducing Waste
Shockingly, the U.S. is responsible for three times the global waste-production average. Do your part to combat this by reducing the amount of waste generated by your spa:
Adopt electronic systems in your spa to use as little paper as possible.
Wherever feasible, go for recyclable, reusable and/or biodegradable spa supplies. This applies to everything from your guests' drinking glasses to the hand towels in your bathrooms to the packaging of products you purchase.
If you must use any single-use items, make sure they are biodegradable or at least recyclable
Include three-compartment recycling bins in guests' rooms and common areas..
Opt for recycled paper over plastic for items such as packaging and cups.
5. Use Eco-Friendly Products
We are also harming our planet by introducing billions of tons of chemicals into the environment each year. Make sure your spa isn't part of the problem by the following methods:
Make sure all beauty products you use, from cleansers to nail polish, are eco-friendly. The environment will love you for it and so will your clients!
Use non-toxic cleaning products.
Replace conventional cotton linen, towels, robes and even slippers with organic, unbleached alternatives. Sustainable fabrics like bamboo or birch fiber are much kinder to the environment. There is a reason why cotton is known as the world's dirtiest crop… and it has nothing to do with actual dirt.
Make sure the same applies to any products or merchandise sold in your spa shop.
Gradually implement these eco-friendly practices and you'll soon be attracting scores of green-minded customers. These clients concerned with healthy habits and the pursuit of wellness will quickly become loyal regulars.