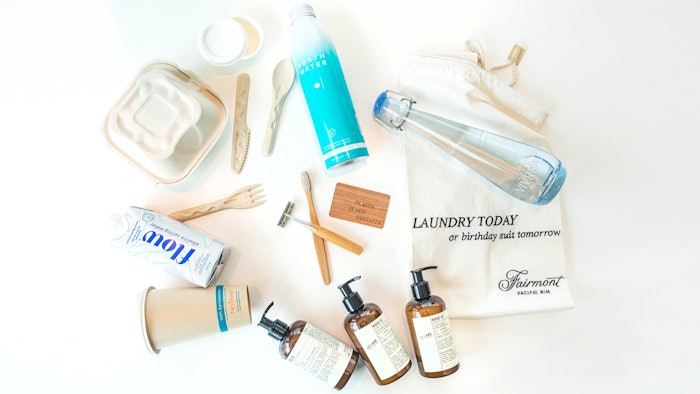 Photo courtesy of Fairmont Pacific Rim
Fairmont Pacific Rim has announced the elimination of non-essential single-use plastics from the guest journey, including its public paces, guestrooms, dining venues and spa. 
Related: Greenspa Calculator Supports Sustainable Spa Business
The hotel is the first Fairmont property in the US to reach this milestone, part of a larger initiative from parent company Accor, to remove all single-use plastics in the guest experience, in accordance with the UN Global Tourism Plastic Initiative. Accor was also the first international hotel group to make a long-term commitment to achieving net zero carbon emissions by 2050.
Sustainability Updates
36,000 plastic key cards used annually have been replaced by reusable FSC Certified cherry wood.
Approximately 1,600 kg of small bath amenity bottles used annually have been replaced with larger refillable bottles.
600 kg of plastic water bottles consumed annually have been removed and replaced with recyclable alternatives.
12,500 plastic laundry bags used annually have been replaced with a reusable cloth alternative.
In-room amenities such as razors, toothbrushes, cotton buds and shower caps have been replaced with environmentally friendly versions.
All food and beverage takeout containers and cutlery have been replaced with fiber-based solutions.
The milestone was verified by British Columbia-based GreenStep Solutions, a Certified B Corporation dedicated to providing organizations with environmental impact performance assessments, technology and certifications to measure and improve sustainability performance.
In celebration, Fairmont Pacific Rim invites guests to help combat plastic pollution with a donation add-on per night to their booking. The entire value of the add-on will be donated to Ocean Legacy Foundation, a Canadian nonprofit that aims to end ocean plastic waste. As a thank you for their donation, gests will receive a food and beverage credit to use on the property. 
In 2018, Fairmont Pacific Rim and GreenStep Solutions began an extensive audit process of all single-use plastics within the hotel operations. The assessment included reviewing the purpose and frequency of single-use plastic practices, followed by the development of a comprehensive roadmap toward the reduction of single-use plastics by removing items, identifying reusable alternatives, and/or introducing sustainable materials in their place.
The resort has worked with suppliers, partners and vendors to accomplish this, and in August 2022, GreenStep awarded Fairmont Pacific Rim the third-party verifier's first Single-Use Plastic Free Certification within the US hospitality sector. 
"This certification is a major milestone for our hotel and one we hope to inspire continued sustainability efforts across our industry," said Jens Moesker, regional vice president and general manager of Fairmont Pacific Rim. "Changing long-held industry practices required creative solutions from all of our staff and this achievement is a testament to their commitment to innovation and environmental stewardship demonstrated by all."