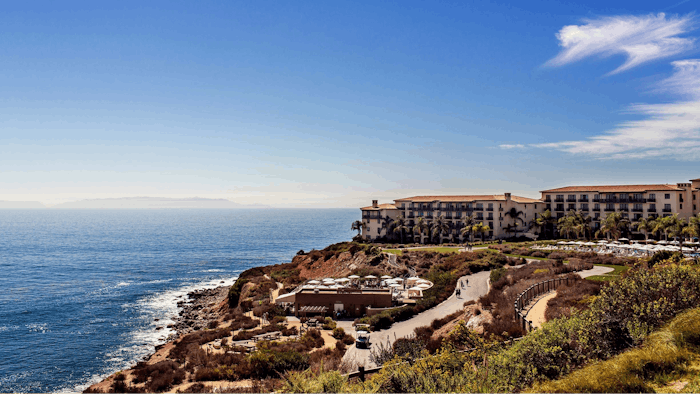 Courtesy of Terranea Resort
Terranea Resort in Rancho Palos Verdes, California, has created a schedule of month-long events celebrating World Oceans Day on June 8, 2021.
World Oceans Day was created to shed light on the importance on ocean wildlife and its preservation. The event is meant to bring people together for the purpose of education of ocean restoration.
Terranea has partnered with local organizations to plan activities that educate, entertain and encourage guests and locals to explore the surrounding marine protected environment. Throughout June, guests may partake in eco-driven initiatives through partnerships with Marine Mammal Care Center, Art to Grow On, ONEHOPE Wine and Gray Whale Gin, bringing awareness to ocean-life protection.
1. Stay
Terranea and the Marine Mammal Care Center invites guests to support the organization throughout the month with a donation when booking their stay online. Marine Mammal Care Center provides medical care and rehabilitation to injured or sick seals and sea lions throughout Los Angeles County and releases them back into their natural habitat, often along Terranea's coastline.
2. Sea Harvest Workshop
Executive chef Bernard Ibarra presents an intimate sea salt and kelp tasting, paired with farm-fresh produce, signature crafted bites and sparkling ONEHOPE Wine, while participants learn about the resort's sea harvesting process. Terranea's Sea Salt Conservatory is used to produce Terranea's own signature sea salt using local seawater from the Pacific Ocean and to cure locally grown and foraged kelp.
3. Kelp Forest Cleanup Kayak Tour
Guests can kayak and help maintain the coastline while collecting litter along the pristine Marine Protected Area of the Palos Verdes Peninsula. Ages eight and up.
4. Kelp Forest Kayak Tour With a Marine Biologist
Guests can learn about the coastline and Marine Protected Area of the Palos Verdes Peninsula with marine biologist and chief operations and education officer of Marine Mammal Care Center, Dave Bader, who provides a wealth of knowledge of endangered cetaceans and local marine life. A portion of the proceeds from each tour will be donated to Marine Mammal Care Center.
5. Self-Guided Nature Walk
Guests may explore the scenic property and learn more about the wildlife in the region, as well as the history of the resort. This walk contains many photo opportunities and is fun for all ages. Maps are available in pointe discovery and guests are encouraged to share photos using #Terranea.
6. Self-Guided Scavenger Hunt
Terranea's Self-Guided Scavenger Hunt for all ages is an opportunity to identify wildlife commonly seen in the area. Maps are available for educational facts about the many beautiful plants and animals local to the Palos Verdes Peninsula.
7. Seashell Beach Frame Art Project
Guests join adventure leaders on the Palos Verdes Meadows and pay tribute to the majestic ocean and sea life with a family-friendly art project. They create a picture frame, either at the resort or at home, using seashells (ethically manufactured), stones and sand. All proceeds benefit Art to Grow On Children's Art Center Inc.
8. Gray Whale Gin Pop Up
Guests may cheers to cocktails on the coast with Gray Whale Gin on the Palos Verdes Meadows. The botanical spirit is created from locally sourced organic and wild foraged ingredients, and the brand's pop-up will teach participants about how they help benefit the world's oceans.
9. Educational Ocean Activities
Guests will learn about the ocean's fascinating sea creatures with the Terranea Green Team on the Palos Verdes Meadows, where they can participate in a fun "Where Do I Live?" game and discover fun facts about the nearby aquatic friends.
10. Captain Gray Whale Cookie Kit
An opportunity to learn about the local gray whale species while creating a delicious treat to-go. Guests may purchase a cookie decorating kit at sea beans filled with materials needed to create their very own Captain Gray Whale cookies.