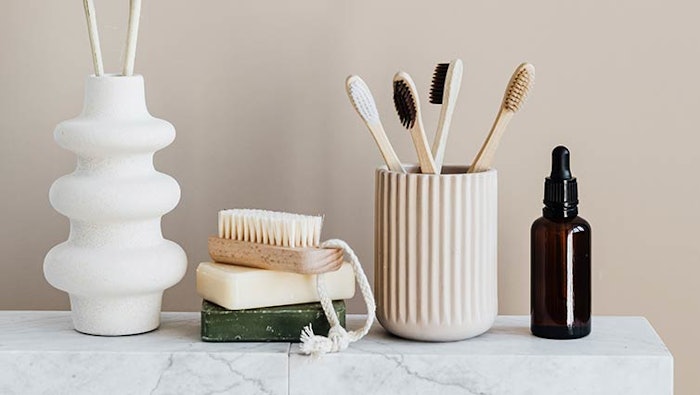 Consumers' interest in supporting mission-driven organizations is on the rise. More than half of consumers globally said they would choose to buy from companies that share their personal values and beliefs over those that don't, according to research from Accenture. It can be a struggle for businesses to communicate their values quickly and easily to the masses. One nonprofit is gaining attention for helping businesses do just that. B Lab (bcorporation.net) has set out to transform the world economy by guiding companies to focus on the triple bottom line: people, planet and then profit.
To date, more than 3,500 companies in 70 different countries have been awarded Certified B Corp status. More than 150 industries are represented in this mission-driven business community, however the spa industry is majorly underrepresented. In honor of Earth Day this April, this article is about how the spa and wellness industry can grow greener through B Corp Certification.
B Corp Benefits
Once achieving B Corp Certification, businesses are legally bound to consider the impact of their decisions on social, environmental and community issues. The B Corp community is driving a worldwide movement of entrepreneurs using business as a force for good.
B Corp Certification isn't a completely selfless act, though. Not only does this certification capture the eye of those who want to buy from mission-driven businesses, but it can also have a positive ripple effect throughout the company. When an organization is focused on the bigger picture and it's built into the company culture, employees feel that they are more than just cogs in the wheel. By focusing on the mission of the company and basing business decisions on more than just profit, workers feel cared for and have more a positive feeling about the company for which they work. That positive feeling leads to maximum proficiency and efficiency through an engaged workforce. Research suggests that B Corps have an easier time attracting and retaining talent, too.
Getting Assessed
The B Impact Assessment is a free tool that scores a company's day-to-day operations and business model. After taking the initial assessment, a spa can see how well it is accounting for social and environmental impacts within the company's practices. If it achieves a score higher than 80 points, it qualifies to apply for the B Corp Certification, a label that will signify to the world that the company has reached a certain level of positive social and environmental business practices.
In total, there are approximately 200 questions that the spa will need to complete, plus it must provide supporting documentation. Most organizations break this up into a few different sessions, as it can take several hours to complete. The assessment focuses on five different categories followed by a disclosure questionnaire.
Continue Reading in our Digital Magazine to learn the next steps on becoming B Corp Certified...
Natasha Prybyla, co-owner of Sloco Health + Wellness in San Luis Obispo, California, discovered her passion for personal and planetary wellness during her massage therapy training more than a decade ago. Now, as the proud owner of a Certified B Corp, she aims to further the movement to make spas the ultimate resource when it comes to empowering people to take control of their health. Prybyla serves on the Board for GSN Planet and hopes that her work on the Sustainability Task Force inspires spas to be more intentional about their business practices.