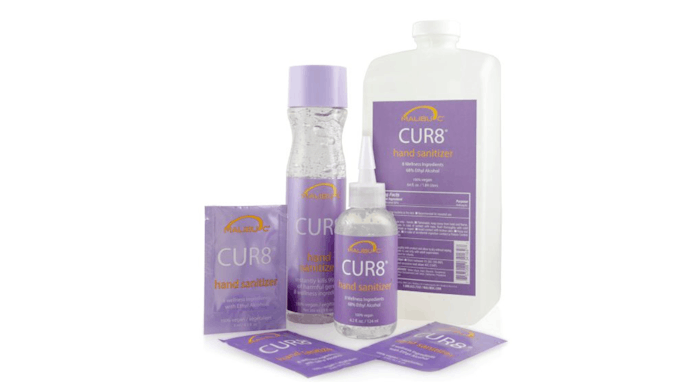 In response to the COVID-19 pandemic, Malibu C (malibuc.com) created CUR8, a line of hand sanitizers. After all, while the brand is known for its innovative haircare products, it's also a solution-based brand.  "When we crated CUR8, our first focus was the medical field," explains Missy Peterson, global educator and artistic director for Malibu C. "We provided hospitals, nursing homes and other first responders with the hand sanitizer." The goal: Keep users protected when they can't access water to wash their hands.
When developing the formula, Malibu C worked with different strengths of ethyl alcohol to find the highest quality to kill the COVID-19 virus on contact. "It's important to know the percentage of alcohol, but also how long the hand sanitizer stays on the skin to have maximum kill time for germs and viruses," Peterson says. Additionally, the unique formula protects skin from drying out after multiple uses.
Now, as spas and salons are opening back up, CUR8 is making its way into the beauty industry. With a variety of sizes available, from liter to retail size to individual packets, it can be used for guests upon arrival, at individual stations or even for retail. As a manufacturer of its own product, Malibu C was in the perfect position to change its focus from hair care to sanitizer. "After all, we are a wellness company," says Peterson. "We felt the transition goes right along with our mission statement."
As the COVID-19 pandemic spread across the world, countless beauty manufacturers in addition to Malibu C switched gears and discovered ways they could provide a helping hand. Here are a few:
Éminence Organics (eminenceorganics.com) reached out to hospitals and other health organizations in the United States, Canada, the Netherlands and the United Kingdom to supply first responders with Mangosteen Replenishing Hand Cream as a relief for dry, cracked hands; Lime Refresh Tonique to hydrate the complexion and revive the senses; and a variety of sample-size cleansers, moisturizers and masques so medical staff on long shifts could wash, treat and hydrate their skin.
Celluma Light Therapy (celluma.com) is not only offering free disposable Hygiene Barriers to existing U.S.-based Celluma practitioners as well as with every new device purchased, while supplies last, but it has also pivoted operations to manufacture medical face shields to professionals on the front line. Additionally, the company donated $2,500 to the Esthetics Council, an organization that advocates for estheticians' legal rights to practice—something especially important right now.
As spas and salons closed their doors, The HydaFacial Company (hydrafacial.com) continued working, supporting the health and wellness of medical providers and their patients through distributing reusable medical masks; partnering with another Southern California companies to build ventilators; and teaming up with a telemedicine company to answer the influx of calls as people stayed home and away from medical offices.
What may seem like a small gesture to these companies makes a huge impact to those in the field. "This was a generous contribution to our healthcare heroes," says Andrea Martinez, area practice manager at Cerner Corporation, of the donation by Éminence. "[Those on the front line] truly cherished the pampering gifts."