The Day Spa @ Folawn's
in San Antonio, Texas, remembers a time when her husband and salon co-owner, Ken, referred to her hairstyling career as a "hobby." Twenty-two years later, the family-owned business has undergone several expansions and is considered one of the region's premier spas. But in addition to providing top-notch beauty services, Folawn's has become a proud proponent of Earth Month initiatives that contribute to provide clean water to people around the world. From charity walks to service donations, Folawn's has raised tens of thousands of dollars to support environmental causes—and has plans to work even harder to give back to the planet down the line.
What motivated you to open Folawn's in 1994?
I was a hair stylist and a partner at another salon in the early '90s. We mostly provided hair services, but my partner and I had different ideas about the direction of the business so we decided to end our working relationship. At that point it just seemed intuitive to stay within the beauty industry. My former partner kept the salon and I opened up Folawn's Hair Co., which was our original name.
RELATED: Meet the Former Marine-Turned-Salon-Owner and Philanthropist
How has the business evolved?
We renamed the company The Day Spa @ Folawn's in 1998 and physically expanded the space that year, and again in 2006. By that time, we had grown so much that I was no longer capable of taking care of everything by myself, and I was planning on selling. My husband decided to step in, and with his help we were able to keep the business going. Fast forward to today and we are both fully involved with the spa. Ken handles the financial side, while I mainly take care of marketing, social media and staffing. Our team has grown from five hair stylists and one receptionist to a total of 48 employees. After two decades, we've evolved into a full salon and spa that offers hair styling and nail services, and we employ estheticians as well as massage therapists.
Tell us about your relationship with Aveda.
Folawn's was a Sebastian salon for years, but we decided to partner with Aveda in 2001 after a representative came to speak with us and explained what the brand stood for. I was ready to make a change so I was open to the suggestion. I really believe in Aveda's philosophy of helping the planet—it just fits well with our brand. That rep was so great, not only did I take on the Aveda line, I hired her eight years ago! Since then, she's been my office manager—and a close friend.
Why is contributing to clean water causes so important to you?
These initiatives align naturally with the beauty industry because we use so much water on a daily basis. I think it's our responsibility to understand that access to clean water isn't, or won't always be, a given.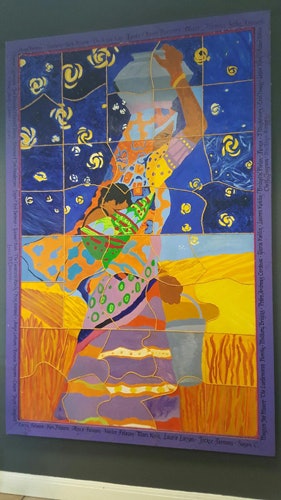 Describe your Earth Month initiatives.
We started doing Earth Month promotions and events when we signed on with Aveda, and we simply took their lead. Every year the company releases limited edition products, like a candle or foot lotion, for its partner salons to sell throughout April. The brand then donates a portion of the proceeds to a variety of environmental organizations and charities.
RELATED: Aveda Celebrates 10 Years of Clean Water
On a local level, we supported a nearby Aveda styling school by participating in its Walk for Water last year. It's a six-kilometer (nearly four-mile) course, which is the average distance that a woman in a third-world country walks to gain access to clean water every day. It was the first time that the school had participated in this particular event.
Each year, our staff gets to select our third Earth Month initiative. In the past, some employees have donated one service per week during Earth Month, forfeiting their payment so the funds could go to charity instead. Once, the staff chose to visit an art studio to paint a picture of a woman carrying water. We painted it in pieces, like a puzzle, which come together to form the complete image. Then, to raise money, people made donations to have their names put in the space around the frame. The piece (shown at right) hangs in our spa.
How much money has Folawn's raised over the years? Our average annual Earth Month donation is about $1,500, so since 2001 we've raised over $22,000. We're really proud of that.
What will some of Folawn's earth-conscious initiatives look like in the future?
We're moving into a larger space next month, and I'm really excited about being more environmentally aware and stepping up our recycling efforts once we're in our new location. Currently, we take cardboard, paper and glass to the recycling center and donate unwanted magazines to the local high school, so the kids can use them in their art program. In the new facility, we're going to try to go paperless. Obviously, we'll have to print sometimes, but we're all going to be working on our iPads as much as we possibly can!
Next year hopefully we'll be able to put together a '70s Rewind It event that we've had in the works for a while. It's a 1970s-themed charity skate party that we want to hold at a local roller rink as part of our Earth Month initiatives. The '70s were the heyday of free- flowing hair, so I thought it would be a lot of fun. Because of the move the project has been on hold, but we'll see what happens in 2018!
–by Dana Robinson
Terry Folawn, co-owner of