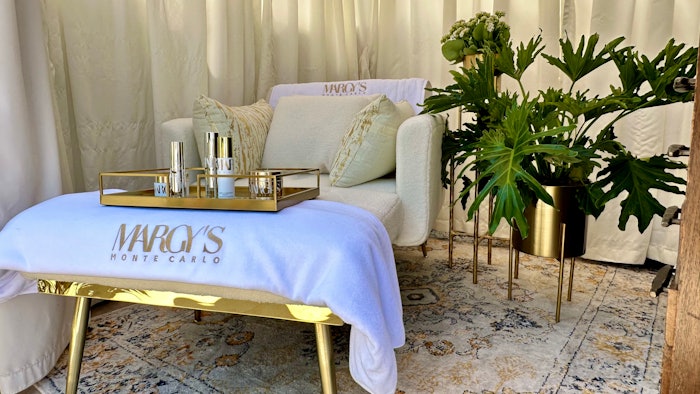 Photo Courtesy of Peninsula Beverly Hills
The Peninsula Beverly Hills had a partnership with Margy's Monte Carlo this summer on a selection of luxurious facials at The Peninsula Spa. It is the first time Margy's Monte Carlo products will be featured in spa treatments in the United States. The menu of exclusive treatments was available poolside at the Peninsula Spa throughout the summer, running from July 1 to September 1.
Some of the selection of express facials, hand and eye treatments from the partnership included the Rejuvenating Facial ($180), a 30-minute facial designed with the luxurious touch of Margy's treatments in a condensed experience, the Instant Eye Lift ($150), a 30-minute revitalizing eye lift treatment to refresh and brighten eyes instantly and Age Repair Hands ($150), a 30-minute treatment utilizing Margy's secret stem cell ingredient extracted from a rare Swiss apple varietal offering skin transformation on a cellular level.
Related: 6 Spa Treatments That Repair Summer Sun Damage
The Peninsual Spa offers a selection of Margy's luxury treatments year-round like the Bespoke Firming Collagen Facial ($265), a 60-minute personalized facial that uses pure, active ingredients to rebalance and illuminate skin and the Super-Lift Haute Couture Facial ($465), a 90-minute age-defying experience that transforms the skin to visibly reduce fine lines and promote a smooth, radiant appearance.
The Age Reversal Illuminating Facial ($545) is a 120-minute facial that utilizes a powerful blend of biotechnology and plant extracts for intensive skin cell regeneration and the Signature Hydrating Facial ($265), a 60-minute exclusively tailored skin care treatment designed to rebalance and boost your complexion.