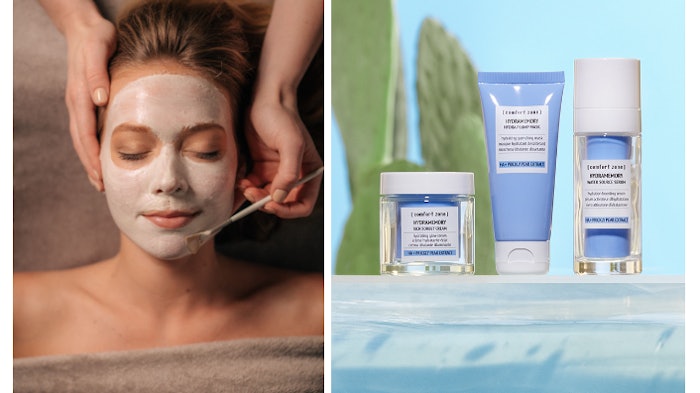 Photo Courtesy of Glen Ivy Hot Springs
Glen Ivy Hot Springs has added the HydraBoost Solution Facial to its treatment menu, a new, unique service for guests seeking immediate visible glow, hydration and vitality. The 50-minute facial uses cryo globes for a lifting massage and new Hydramemory products from [comfort zone] formulated with lactic acid and hyaluronic acid to provide instant hydration and radiance for a healthy, dewy look.
To promote the new treatment, Glen Ivy Hot Springs and [comfort zone] offered guests a passport filled with Hydramemory-inspired treatments and activities to complete, such as Hydramemory mist stations, photo activations, hydrating hair masks and the Glen Ivy Hot Springs Proprietary Bathing Circuit. Guests also had the chance to register for complimentary master classes hosted by [comfort zone] skin experts.
A free eye enhancement will be provided to all guests who purchased the HydraBoost Solution Facial during their visit, and guests who complete all the special activities on the Hydramemory passport will be entered in a raffle to win a complimentary Hydraboost Solution Facial and [comfort zone] gift basket.
The Hydramemory line of [comfort zone] skin care products is also available for guests to purchase and experience the hydrating benefits of the HydraBoost Solution Facial at home.
Related: 3 Holistic Massage Techniques for Lifting & Detoxifying Skin
[comfort zone] Hydramemory line:
Water Source Serum - A waterfall of hydration in a bottle, this fresh, light serum contains a quenching formula that provides hydration and glow.
Rich Sorbet Cream - A vegan formula enriched with Skin-Adaptive Hydration technology combined with biomimetic sorbet texture to give comfort and intense hydration to the skin, making it immediately softer, smoother and more radiant.
Light Sorbet Cream - Boost skin's ability to adapt to different climate conditions for immediate and long-lasting hydration and glow.
DePuff Eye Cream - A depuffing and hydrating eye contour cream formulated with caffeine and a specific peptide for the eye in a lightweight biomimetic texture. Clinically proven to improve the look of dark circles, eye bags and fine dehydration lines.
Hydra Plump Mask - A flash-intensive solution for dehydrated, tired and dull skin. In only 15 minutes, the glossy formula gives skin plumpness, smoothness and radiance.
Hydra & Glow Ampoules - Intensive cosmetic treatment with an illuminating complex with hydrating action for a smoother and healthier-looking complexion.
Face Mist - The perfect pick-me-up to refresh skin on the go.