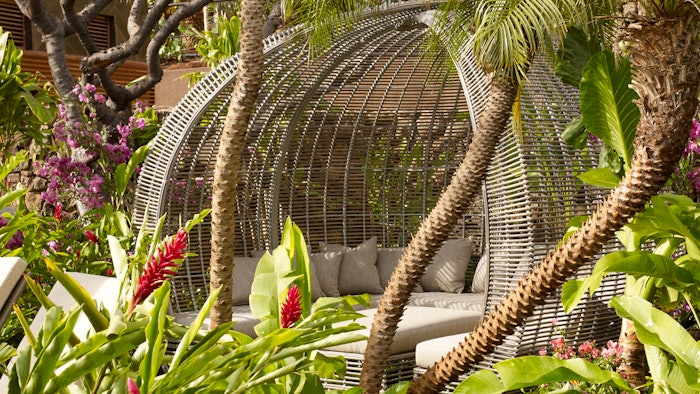 Courtesy of Four Seasons Resort Lanai
Hawanawana Spa at Four Seasons Resort Lanai, offers an expansive collection of low- or no-touch treatments that provide more privacy throughout the individualized self-care experience. The treatments, led by wellness supervisor Caroline Reese, focus on the Sensei Way, which distills preventive health science, data and research into three paths: move, nourish and rest. From sound meditation to thermal body mapping, these treatments combine modern technology and traditional wellness pillars to create a highly personalized wellness program.
Related: Discover the Healing Powers of Sound Therapy with Shamballa Wellness' Training Program
1. Cocoon Sound Meditation 
This treatment features vibratory instruments like alchemy crystal singing bowls, gongs and indigenous percussion on a journey through elemental sound and cosmic harmony while being suspended and cradled by the silk hammock. Along with auditory stimulation, guests receive no-touch energy healing to restore mind, body and spirit.
2. HeartMath Meditation
Draw energy away from distressed thoughts and feelings with intentional breath. HeartMath is a system for awakening and developing the heart's intelligence, using techniques to increase the heart's awareness of depleting situations and emotions. Guests learn simple acts of focusing on the heart area by breathing a little slower and deeper to help draw energy away from distressed thoughts and feelings. They can develop an increased awareness of the depleting and renewing situations and emotions whether in business or their personal life.
3. Sound Bath Meditation
As guests restore into a few poses, they will be immersed in a full-body listening experience that intentionally uses sound to invite gentle yet powerful therapeutic and restorative processes to nurture mind and body.
4. Thought Field Therapy/Emotional Freedom Technique
These healing methods are based on the idea that energy flows along a network of pathways in the body and that blockages in the system can lead to physical ailments. Guests learn tapping sequences that focus on specific emotions and triggers, as well as ways to manage stressful memories and triggers.
5. Reiki
This ancient Japanese energy healing technique manipulates the universal life force energy to reduce stress, leaving guests feeling renewed in mind, body and spirit.
6. Aerial Yoga
Silk hammocks welcome all levels in an anti-gravity yoga session led by Reese that can provide stress- and pain-relieving benefits and restore length and openness in their spines.