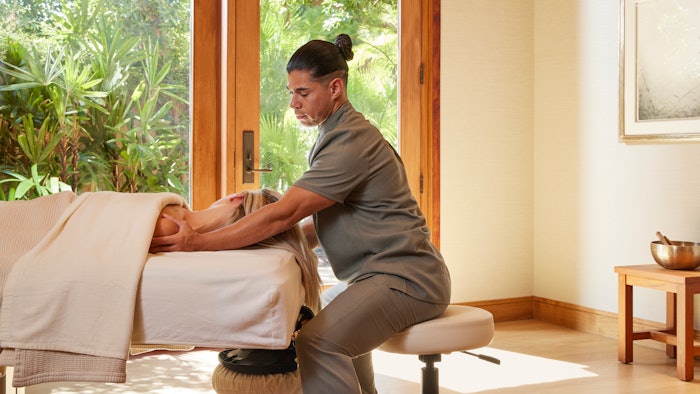 Photo courtesy of Noah Webb
Sensei launched its newest well-being program focused on sleep and stress management called Rest & Recovery. The program is available for booking at both Sensei retreats, Sensei Lānaʻi, a Four Seasons Resort, and Sensei Porcupine Creek. 
Rest & Recovery is designed to help guests develop practices to restore balance in the mind and body, create space for self-reflection and develop a framework for managing stress in their everyday life. 
In this structured five-day program, guests can work with their Sensei Guide and a team of experienced practitioners to analyze their current physical and mental state, learn stress management techniques and reframe their perceptions of their personal movement, nourishment and rest practices. 
Using historical and real-time captured by a complimentary WHOOP 4.0 brand, each guest's Sensei Guide will help interpret key biomarkers of rest and recovery including sleep quality, heart rate variability, blood pressure and heart rate recovery. 
Related: 5 Tips for Creating Sleep Wellness Programming
Rest & Recovery Program Sessions
Sleep 1:1: During this private session, a Sensei Guide will analyze the variables that are impacting a guest's sleep using information from their personal life and data from wearables to inform the discussion. Through this process, each guest will be equipped with evidence-based strategies to reclaim restorative sleep.
Sensory Eating 1:1: Through artfully prepared delicacies from the Sensei by Nobu kitchen, guests will learn how to harness all five senses - one by one– to still the mind, spark gratitude and prepare the body to receive culinary nourishment. Facilitated by a Nutrition Guide, this session will illustrate the importance of a restful state of mind and body during mealtime to promote appetite, facilitate digestion and begin healthy eating habits. 
My Recovery: In this session, guests will explore the range of their body's stress responses as they are guided through gentle cognitive exercises, measuring key biomarkers in real-time such as heart rate variability and heart rate recovery. Facilitated by a Mindset Guide, guests will learn how to influence their personal recovery using tools such as focused breathwork and guided imagery, working together to develop a framework for managing stress in everyday life.
Rest & Recovery Program Inclusions
Five nights in wellness-oriented, open-concept accommodations (additional nights may be added separately)
Personal consultation with a Sensei Guide and Pre-Arrival Specialist to curate the guest's itinerary up to 60 days prior to arrival
The pre-arrival process includes a WHOOP 4.0 strap with a twelve-month membership, mailed to the guest's home
Three guided sessions including My Intention, My Recovery and My Plan
Three private sessions including Sensory Eating 1:1 and Sleep 1:1 and a choice between several 1:1 Mindful Movement sessions including yoga, forest bathing, hiking and tai chi (varies by location)
Two 90 minute spa treatments
Unlimited group classes including fitness, meditation, yoga and many more
Two post-stay phone calls with the guest's Sensei Guide to check-in on progress towards goals and provide guidance for the future
Related: 3 Destinations Where Sleep is On the Menu
While both Sensei retreats will feature the new Rest & Recovery program, each property will offer unique experiences tailored to the nature and facilities in each location. Guests participating in the program at Sensei Lāna'i will have access to Lanai Adventure Park, which is a playground for experimenting with stress in a real-world environment.
Guests on Lanai can participate in forest bathing and tai chi as part of their Mindful Movement 1:1. Meanwhile, guests at Sensei Porcupine Creek will be able to participate in 1:1 yoga classes or a 1:1 guided ridge hike. The program is still evolving and new tailored experiences will continue to be added to the program.
"Improving sleep and reducing stress are two of the most common intentions that we encounter when working with our guests," said Dr. Vishal Patel, Sensei Co-President and Chief Medical Officer. "For the well-being of our guests, it was imperative that we create a new program focused on rest and recovery. In this program, we will equip our guests with the tools to manage chronic stress – all within the safe haven of our Sensei retreats."