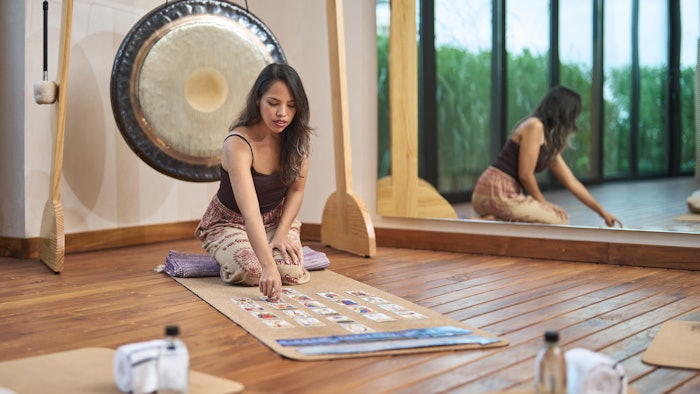 Guests are becoming more aware of the power of spirituality in wellness and seeking treatments that allow them to dive deep into the connection between their inner selves and higher powers. These five resorts all offer modernized wellness programs that focus on inner spirituality through mindfulness, ancient rituals, customized healing sessions and more.
Related: The Lone Wolf Retreat Explores Men's Well-being & Spirituality
1. Ojai Valley Inn (Ojai, California)
Ojai Valley Inn offers a spiritual journey led by their resident healer and psychic, Nancy Furst. The experience takes place in a private studio located away from the Spa Ojai and allows guests to connect with their inner spirits through customized journeys that include a cleansing sage ritual, a meditative journey through drumming and Native American prayer song and psychic reading with Native American wisdom cards, gems and crystals. The spiritual journey is offered through individual and couples sessions.
Other wellness programs offered at Ojai Valley Inn include crystal and reiki energy healing and Spa Ojai's signature Kuyam experience, a detoxifying experience that combines therapeutic, self-applied desert clay with essential oils, intense dry heat and inhalation therapy in a sauna-like environment.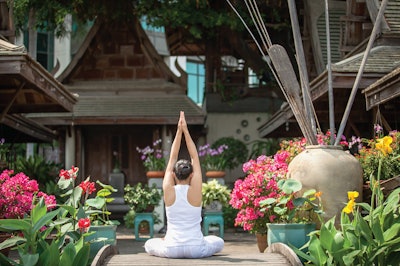 2. The Peninsula Bangkok (Bangkok, Thailand)
At The Peninsula Bangkok, every morning starts with Tak Bart, or almsgiving, a sunrise ritual in Buddhist communities across Thailand. The practice is considered a crucial element of the making merit philosophy that underpins the Songkran festival. Guests can also opt to balance their chakras by watching the sun rise over the Chao Phraya River during sunrise yoga at Gong Wu Shrine. After the morning ritual, guests can reflect on the experience at the shrine and observe local lifestyles in the Princess Mother Memorial Park. 
Related: What Are Wellness Travelers Looking For?
3. Thompson San Antonio - Riverwalk (San Antonio, Texas)
The Moon's Daughters, the signature restaurant at Thompson San Antonio, was inspired by Selene, the Greek goddess of the moon, and offers a Cosmic Night series that takes place every full moon.
The indoor-outdoor rooftop lounge and bar is on the 20th story, offering a look at the city in a special celestial experience. Guests can look at the stars with a telescope, enjoy full moon-inspired cocktails and participate in live tarot card readings, along with tarot insight curated by Astrologer & Card Reader Kate Wind.
Every cocktail served during Cosmic night will include a Cosmic Coaster designed by Wind for a surprise tarot reading: guests will have the chance to scan a QR code on the back of the coaster, receive a prompt to think of questions, followed by unique insights, which will conclude with a positive affirmation.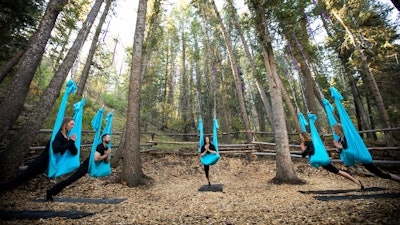 4. The Lodge at Blue Sky, Auberge Resorts Collection (Park City, Utah)
The Edge Spa at Blue Sky offers personal Energy Journeys that allow guests to connect inward with nature and a higher power through various mindful and spiritual modalities, including:
Tea with Sugar is a customized session that starts with a heart-opening and chakra-clearing tea ceremony utilizing crystals and palo santo led by the resort's in-house healer, Sugar. From there, the guests' journey is guided by Sugar and can include oracle cards, meditation, discernment of their personal intuitive gifts, changing beliefs from negative to positive or finding their animal spirit guide.
Numerology Transformation is a journey that uses numerology to bring awareness of challenges, help identify strengths and deliver positive recommendations. The spiritual and emotional clearing will reset the heart and light body, creating empowering change and transformation.
The Sacred Plant Ceremony begins with a private inquiry to analyze the physical, emotional, spiritual and familial blocks which are informing guests' lives. The resort's intuitive healer will then lead guests through a guided meditation and create a personalized plant essence remedy to encourage and support their personal transformation. Guests will be given instructions on how to best receive the plant essence that they are gifted to continue their journey at home.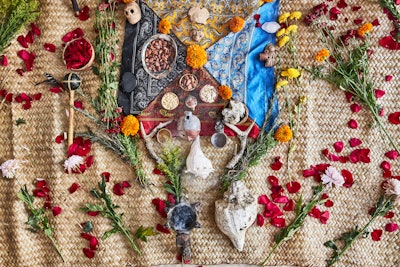 5. Etéreo, Auberge Resorts Collection (Riviera Maya, Mexico)
Etéreo sits along the Mayan Riviera's Caribbean coast and intertwines ancient Mayan traditions into its wellness offerings. Guests can participate in Mayan healing and mindfulness practices, energy readings, star observations and more spiritual journeys.
Mayan mindfulness traditions are taught by wellness instructor Jesús Aguilar. An immersive introspective journey into the soul is led by spiritual coach and emotional therapist Andrea Reyes. There is a nightly copal ritual with the resort's in-house shaman, Yaotekatl, or guests can select natural stones that align with their individual energy and intention to create a personalized bracelet or necklace. 
An astrologist local to the area, Itzel Castillo, takes guests on a deep look into Mayan time, cosmovision and star observations, and guests can obtain their own personalized birth chart reading via the Mayan Calendar. 
Etéreo, Auberge Resorts Collection also offers education on Mayan cities and civilizations as well as modern interpretations of Mayan cuisine.