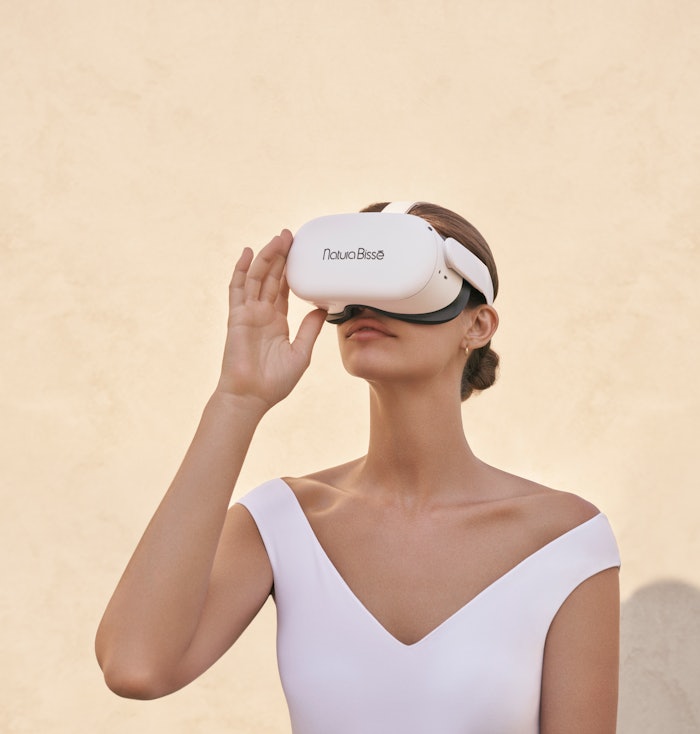 [Courtesy of Natura Bisse]
Montage Hotel's Spa Montage has introduced The Five Senses treatment at its flagship location in Laguna Beach, California, an exclusive treatment that uses virtual reality technology from Natura Bisse to encourage guests to fully immerse themselves into a state of mindfulness. 
Related: 4 Ways Virtual Reality Can Elevate Spa Treatments
Spa Montage is the first spa in the United States to use Natura Bisse's Mindful Touch virtual reality technology. The 150-minute treatment is available to Spa Montage guests and locals for $2,000. The VR headset is worn for eight minutes at the beginning of the treatment, using audio and immersive visual elements to help guests focus on breathing and mindfulness and prepare for the rest of the treatment experience. The virtual reality component is intended to keep guests' minds from wandering and to encourage them to concentrate beyond their current state.
To complement the VR sight and sounds, the treatment begins with a singing bowl and a taste of honey, followed by a foot cleanse, detox mask for hands and feet, full body massage, anti-aging facial and a dark chocolate treat to round out the sensory service. 
"Thanks to the combination of mindfulness techniques and virtual reality, the clients become more aware than ever before of their senses, especially of the incredible power of touch, the first sense that the human being develops," said Patricia Fisas, senior vice president & research and innovation officer, Natura Bissé Group. "Every touch awakens some of the millions of receptors on our skin and triggers the release of oxytocin, serotonin and dopamine, known as 'happy neurochemicals', related to positive mood and feelings. In addition, the levels of cortisol are reduced, one of the hormones released in response to stress."
The Five Senses treatment was created to pay homage to Montage Laugauna Beach's 20th anniversary this year.
"This year is the 20th anniversary of Montage Hotels & Resorts, celebrating the flagship property, Montage Laguna Beach, that first opened its doors in February 2003. The number twenty represents harmony and balance. The Five Senses treatment was created to pay homage to the anniversary year's significance while providing a more balanced life to guests of the resorts," said Kristin Carpenter, director of spa & retail at Montage Laguna Beach.