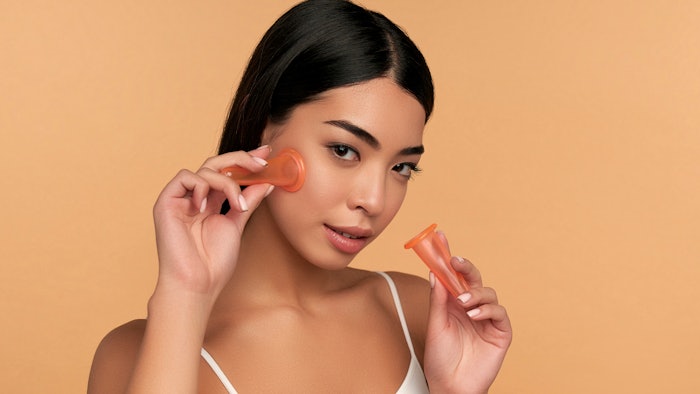 According to our recent poll, 73% of our readers are fielding client requests for treatments they initially saw on social media. It's really no surprise—who doesn't love watching a beautiful spa treatment demo?
Luckily, many WellSpa 360 readers also shared which treatments their clients are requesting the most after seeing demonstrations on social. We've gathered information on the top four, so you can stay ahead of the game!
1. Gua Sha
Gua sha has been popular for awhile, and rightfully so. A gua sha face massage is relaxing, sculpts the facial contours, promotes circulation and lymphatic drainage, and adds in some healing crystal energy all at once. 
Thanks to a wealth of techniques, tools and uses, gua sha demos abound on social media, which is why you're probably seeing more guests seeking the service. Whether you're a master of the technique or looking to get started, these educational articles will support your spa on its gua sha journey: 
2. Facial Cupping
Another service that falls under the lymphatic drainage trend, cupping is a popular alternative therapy that encourages circulation and relieves muscle pain. When used on the face, this modality also delivers incredible anti-aging results, like plumping fine lines and lifting the skin. 
Facial cupping is still relatively new to a lot of consumers, which is why they are so excited to experience the treatment once they've seen it on social media. Even the WellSpa 360 team has noticed that facial cupping videos do remarkably well on Instagram! These resources will help you add face and body cupping to your spa menu:
3. LED Light Therapy
With so many light therapy devices emitting different colored wavelengths out there, it's no wonder that spa-goers are dazzled by beautiful displays of LED treatments on social media.
And light therapy addresses almost as many concerns too! From wands to face masks to full body beds and pods, LED sessions can deliver muscle and joint pain relief and anti-aging benefits, as well as fight acne and improve overall well-being on a cellular level; check it out:
4. Hydrafacial
What can we say about Hydrafacial that spa pros don't already know? The facial infusion protocol (and trade show superstar) shot to Top 10 Treatment lists almost as soon as it was launched, and the brand has continuously innovated since then, adding new modalities, infusions and boosters from popular spa skin care brands. 
Don't miss these two most recent Hydrafacial launches: the HydraBOOTY treatment and a thermal bath-inspired booster!