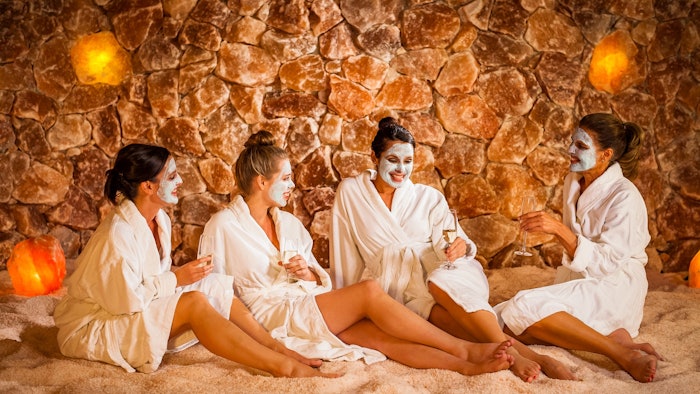 Courtesy of Salt Santa Barbara
Santa Barbara, California, is home to several spas and wellness centers that take advantage of the city's beautiful climate and beaches. These five unique wellness experiences are just a few that help make Santa Barbara a coveted spa destination.
Related: 4 Wellness Treatments from Southern California
1. Salt Santa Barbara
Salt Santa Barbara offers a Himalayan salt cave session that improves respiratory health. The cave walls and ceiling are made of 45 tons of Jurassic-age salt blocks and crystals, complete with a crushed salt floor. Guests can relax and breathe in the salt's healing properties while lying on a mat or resting in a zero-gravity recliner for 45 minutes.
2. The Ritz-Carlton Bacara
The Ritz-Carlton Bacara's spa features a swimming pool, redwood sauna, eucalyptus steam room, fireside lounges and more. Its signature experience is The Hollywood Facial, which utilizes Hydrafacial, Nutraceutical and NuFace Microcurrent treatments. For the holidays in 2022, the new Winter Bliss Massage features dry body brushing, an oil of the guest's choice and a light to moderate pressure, full body massage to increase circulation and fortify the immune system.
3. El Encanto, A Belmond Hotel
The Spa at El Encanto's signature offering is the Body Regeneration Treatment, which starts with dry brushing, followed by a skin elixir mask wrapped in a warm cocoon around the body. Next is  a 50-minute body massage using an epidermal growth factor body cream. Outside of the spa, guests can participate in fitness classes, sound baths and life coaching sessions. Guests can also book a private or virtual mandala session for guided reflection and self-discovery.
4. Santa Barbara Beach Yoga
Santa Barbara Beach Yoga is an outdoor yoga studio offering daily classes from sunrise to sunset with ocean views. Classes range from sound and stretching in the sand with signature yoga headphones to full moon yoga and more traditional open-air classes on the rooftop patio of the East Beach Cabrillo Pavilion.
5. Rosewood Miramar Beach
Rosewood Miramar Beach offers luxury experiences including the Alpine Peppermint Foot Massage, the Montecito Sage Purification, and a rotation of classes ranging from mat Pilates to bodyweight strength training. Guests can also enjoy private experiences like stand-up paddle board yoga, martial arts and surf lessons.