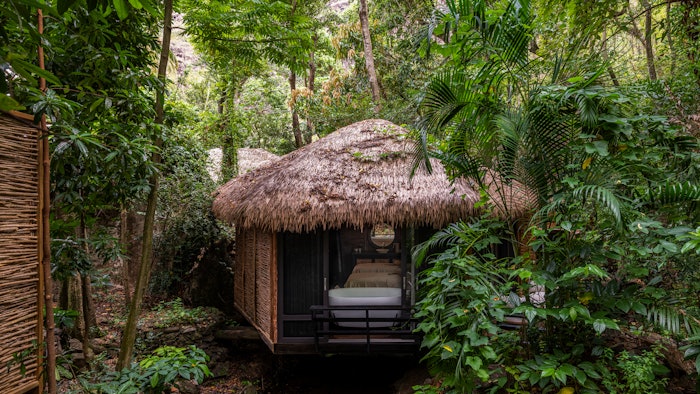 Photo courtesy of Sugar Beach
Sugar Beach, a Viceroy Resort, has partnered with natural, luxury skin care brand Tata Harper. Featured at the property's Rainforest Spa, which recently debuted a refresh, Tata Harper skin care treatments and a newly launched service have been brought on board. 
The updated Rainforest Spa menu offers various facial and body treatments using the brand's products including the Detox Solution, Deep Cleansing, Hydration, Sanctuary and Cellular. The Tata Harper team also created the signature Rainforest Renewal Ritual, a full-body treatment that is exclusive to Sugar Beach and Rainforest Spa. 
Related: 3 Immersive Fall Treatments That Connect Guests to the Earth
The Rainforest Renewal Ritual brightens and nourishes the body, beginning with a body peel and followed by a full body massage. Next, a facial resurfaces and the lifts the skin. The clarifying mask exfoliates with AHAs and BHAs, while a nourishing honey mask soothes skin. The treatment finishes with a lifting massage of the face, eyes and scalp.
The Rainforest Spa has 10 treatment rooms within treehouse-style gazebos, built on stilts high above the ground. The property's recent expansion debuted a new reception area, as well as a couples treatment room.
Guests can enjoy rejuvenation on the island, and then sweat out the toxins with an ancient ritual in a Temazcal, an earthen Amerindian steam dome. A sulfur spring runs through the spa, where warm mineral-enriched water from the island's sleeping Volcano. 
The spa uses the nourishing ingredients of nearby volcanic springs and fertile cocoa plantations in its menu creation. Its other signature treatments include a bamboo massage, pink salt stone therapies and natural body wraps. 
"We are delighted to partner with Tata Harper and her skin care brand to take our wellness programming and spa offerings to the next level," said Julie De Brito, director of spa and wellness. "With the alignment of our goals and aspirations for the hotel in relation to sustainability and luxury, Tata Harper is the perfect partner for the Rainforest Spa, a place in which we strive to make a unique oasis during our guests' time on the island."