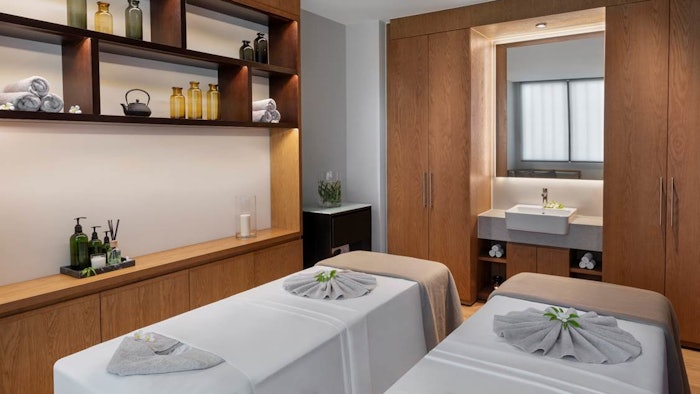 Courtesy of Le Spa at Alma Resort Cam Ranh
Alma Resort's beachfront Le Spa introduced a spa menu, created by spa manager Nguyen Thi Thanh Hang. Le Spa now offers packages, body scrubs, hair mask treatments, collagen facials, sun soother wraps, four-hands massages, fancy footwork therapy and more.
Services use products with natural ingredients such as essential oils, antioxidants, vitamins, fruits, herbs, flowers and Vietnamese mineral mud. The new menu "draws on ancient health and beauty traditions, and is inspired by rejuvenating treatments stemming from different techniques and cultures throughout the world," explains Hang. 
9 New Treatments
Reset: The 100-minute treatment begins with an aroma steam bath followed by an aromatherapy floral footbath, Balinese massage and facial. 
Rejuvenate: The 120-minute service starts out with an aroma steam bath and floral footbath. Next is a traditional coconut, orange or herbal body scrub and Vietnamese mineral mud body wrap. Guests can then choose from fancy footwork therapy or an energizer retreat massage. Described as "reflexology without the ouch," fancy footwork therapy is based on the same therapeutic principles, helping to release toxins and restore energy flow. The energizer retreat massage concentrates on the back, neck and shoulders.
Recover: The 135-minute package includes a floral footbath, body scrub, a choice of Balinese massage or pure nature facial, a foot massage and scalp massage. Rich in enzymes that peel away dead skin, antioxidant vitamins to treat and protect cells from pollutants, and natural oils for nourishment, the pure nature facial comes in three options for different skin types.
Le Four-Hand Signature: A blend of five different massage styles: Shiatsu (Japanese), Thai, Hawaiian Lomi Lomi, Swedish and Balinese. The service is performed by two therapists in synchronization. 
Collagen Radiance: This facial uses collagen to smooth fine lines and plump the skin. 
Rejuvenating Facial: This treatment includes a purifying mask, energizing digit pressure massage and serum concentrate to awaken the skin.
Purity Ritual: Designed for oily skin, this facial works at redefining pores and controlling shine.
Rosa Cream Ritual: The treatment aims to boost dry and delicate skin's tolerance threshold by reducing redness and smoothing with a nutrient-packed, natural clay mask.
Sun Soother Wrap: This body wrap delivers hydrating, balancing, anti-inflammatory and healing properties to the skin. It includes a chilled lavender-infused compress, hydrating banana leaf wrap with cucumber and lavender essential oil, foot massage, a compress with anti-inflammatory towels infused with green tea and lavender essential oil, and an aloe vera application.
In addition to Le Spa's 13 beachfront treatment villas, the spa has his and hers saunas and steam rooms, two lounges and a beauty salon.