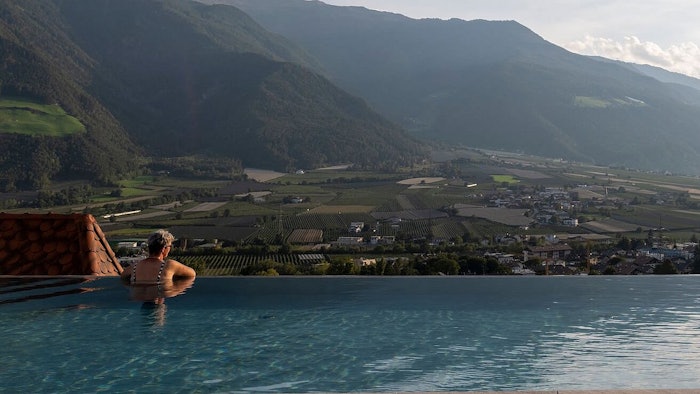 Destination spa Preidlhof in Naturno, South Tyrol, Italy, is offering thermal water and thermal wellness treatments, along with Garden Spa Suites, new classes and treatments that deepen sensorial discovery and integration.
The new classes, experiences and treatments for summer 2022 were developed to reconnect guests with their bodies and internal landscape with nature, to transform their health and well-being. 
Related: 4 Rejuvenating Spa Treatments in the Swiss Alps
Thermal Water and Thermal Wellness Treatments: Inspired by the traditional Merano bathing ritual, hydrotherapy experiences can be enjoyed in the indoor pool or private whirlpools infused with detoxing/regenerative bath oil blends. Medical thermal therapies also integrate multi-sensorial treatments in the Transformational Journey Retreat. The experience is a creative wellness holiday that facilitates inner transformation through the discovery of the senses. 
Awakening Classes – Channel Your Biorhythm: Every morning at 8 am, psychologist Norma Jean Botticelli leads an awakening class that is based on the circadian rhythm. The classes alternate from a slow, low impact awakening one morning, to a more active awakening the next. On Saturdays, a "mixed" awakening allows guests to determine which awakening best fits them. The classes work with guests' biorhythms and integrate movement, stretching, energetic work and holistic teachings. 
Hikes to Awaken Your Sense of Wonder: Twice a week guests can hike up Sun Mountain, recognized by many experts for its natural high energy.  Botticelli leads the hikes and incorporate mindfulness, breathwork, yoga and games to teach guests how to walk mindfully. The hikes further complement and integrate with the award-winning Forest Bathing sessions lead by Preidlhof's Irmgard Moosmair. 
Garden Spa: The Garden Spa has opened in the Mediterranean Garden, available to guests from May to October. Guests can enjoy massages in two outdoor spa suites set amidst lavender, olive trees and citrus plants overlooking the valley and green fields. 
Full Moon Sound Healing Ritual: The Ritual takes place at 10 pm in the Mediterranean Gardens in complete darkness, accompanied by the soft voice of Bortolin. 
Beauty Treatments: A highlight for summer of 2022 is the 90 min. "Face Modeling Facial Massage." The holistic and natural experience uses expert hands and a specific method of face contouring for immediate and long-lasting effects. The treatment works on the vagus nerve and massages the interior of the mouth.