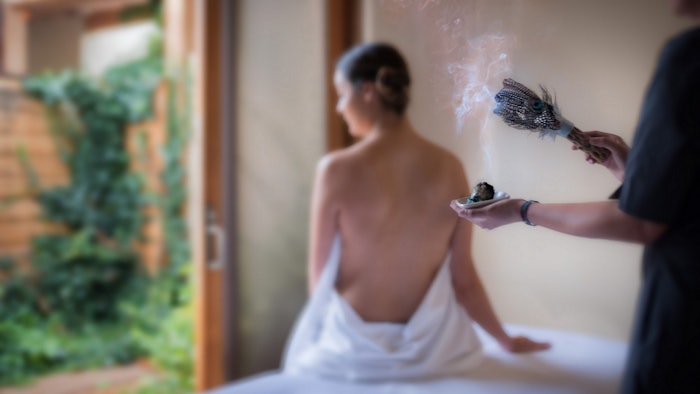 Courtesy of Four Seasons Resort Rancho Encantado Santa Fe
Four Seasons Resort Rancho Encantado Santa Fe, located in New Mexico's Sangre de Cristo foothills, has debuted vortex-inspired spa treatments designed to provide high-desert healing and an invigorating retreat. 
Vortex-Inspired Spa Treatments
Sunset Sound Bath & Midsummer Night's Dream Massage: The three-hour treatment awakens the chakras and energy channels of the body. An immersive sound bath meditation journey is guided by the yoga of sound centered on the vibrational vortex healing grounds. Guests can then enjoy an outdoor massage infused with Heartful Vibrational Oil, a blend of rose, geranium and basil to strengthen and open the heart center and foster a sense of deep peace. 
Lavender Piñon Facial: The treatment rejuvenates the mind, body and spirit with piñon, indigenous to the area. The uplifting facial combines the hydrating and skin healing powers of an amethyst face mask, along with a calming ground piñon hand and foot exfoliation. A soothing cup of lavender tea is served after the treatment, as guests relax in the private courtyard.
The Spa at Four Seasons Resort Santa Fe offers guests serenity and bucolic beauty with an indoor-outdoor, 15-room spa. Treatment offerings include facials, massages, nail services, hair blowouts and spiritual enhancements like smudging ceremonies and chakra balancing. The Warming Room allows guests to unwind by a fireplace with complimentary beverages, and the private spa courtyards have steam rooms, hot tubs, chaise lounges and outdoor showers.